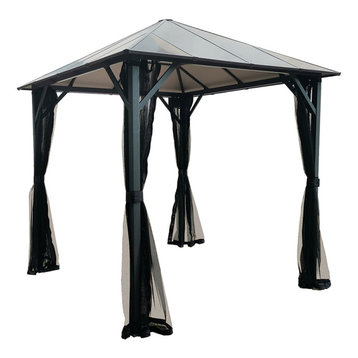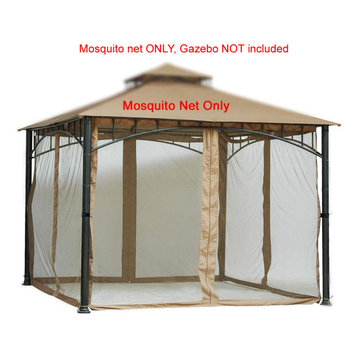 84" Tall Beige Mosquito Net for 10'x10' Gazebo, Velcro Straps
by Home Garden Collections
(15)
Invite your friends, not mosquitoes, to your backyard BBQ! This cream-trimmed mosquito net is designed to fit a standard 10' x 10' gazebo. It has Velcro straps that allow you to easily connect the netting to the top ...
Read More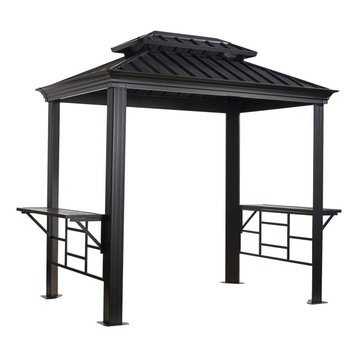 Bbq Messina 77 Gazebo 6'x8' Steel Roof
by Sojag
(23)
Sponsored
BBQ MESSINA 77 gazebo 6'x8' steel roofA must for every grill master. The Messina grill shelter protects your grill from the elements with his galvanized steel roof. This shelter has 2-shelves which provide outdoor c ...
Read More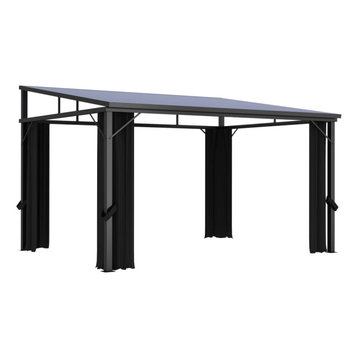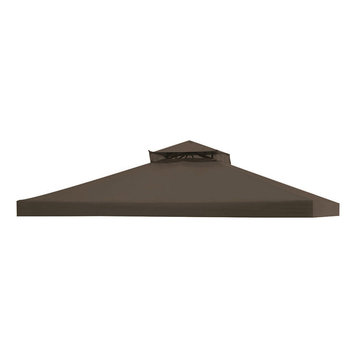 Outdoor 12' x 10 Top Replacement Tent Gazebo 2-Tier
by VidaDeals
(1)
Features: Waterproof canopy top replacement for your 2-tier Gazebo Perfect protection and sun-proof More effectively for harmful UV blocking Half a year longer lifetime than other canopies without coating Multi ...
Read More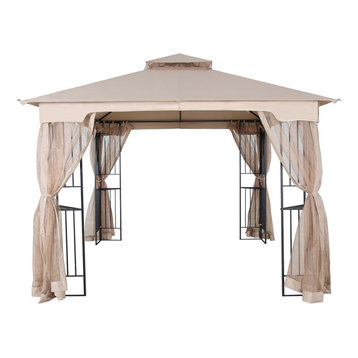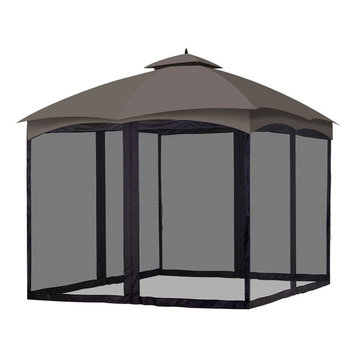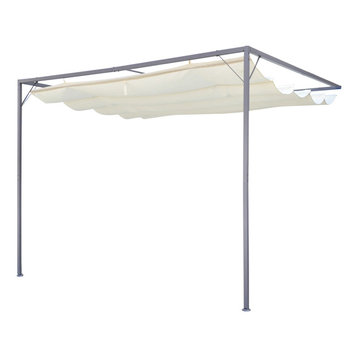 8 ft. x 5 ft. 2-Tier Steel Grill Gazebo with Shelves, Brown
by HIO
(1)
It's BBQ Gazebo time! Add some shade to your grilling experience. This 2-TIER 8'x5' STEEL GRILL GAZEBO is the perfect compliment to your outdoor grill experience. The durable steel frame is powder-coated in a black ...
Read More
St. Kitts Vented Canopy Gazebo - Bronze/Ruby Red
by International Caravan
(39)
St. Kitts Vented Canopy Gazebo - Bronze/Ruby Red. Add shade and a touch of style to your patio with this vented canopy gazebo. This gazebo features an vented square design that is sure to impress your guests and ...
Read More
Sanibel Black Curtains 8'x8' Polyester
by Sojag
SANIBEL Black Curtains 8'x8' polyesterThese summer curtains are the perfect accessory for your sun shelter. Not the same as mosquito netting, these curtains add privacy and shade from the sun on a hot summer day. Ma ...
Read More
Outdoor 10'x10" Gazebo - Brown
by VidaDeals
This outdoor gazebo with simple and classic appearance is your best choice to relax and enjoy parties. The practical polyester canopy and steady steel frame create a comfortable and openable space. Its suitable sizi ...
Read More
Find where to buy Gazebos and get inspired with our curated ideas for Gazebos to find the perfect item for every room in your home. With such a wide selection of Gazebos for sale, from brands like GDFStudio, ShelterLogic, and Flash Furniture, you're sure to find something that you'll love. Shop from Gazebos, like the 84" Tall Beige Mosquito Net for 10'x10' Gazebo or the Outdoor 12' x 10 Top Replacement Tent Gazebo 2-Tier, while discovering new home products and designs. Whether you're looking to buy Gazebos online or get inspiration for your home, you'll find just what you're looking for on Houzz.