Awnings
Warm spring and summer days are the perfect chance to set up a canopy tent, cook up some delicious treats and invite friends and family over. If you already have a cozy patio or deck where you'd like to enjoy a breezy summer day, awnings and patio covers can also provide soothing shade and cover from that rogue summer rain shower. On the other hand, if you crave traveling to a beach or park, you can bring a portable canopy with you to ensure you'll still have access to shade and cover.


What qualities should I look for in an awning or canopy?

Your canvas canopy tent or patio cover should be durable — it shouldn't tear easily, and should also feature rip stop capabilities that will prevent small holes from turning into smaller ones. It should also be fire resistant and have UV blocking qualities. Your metal canopy frame should be constructed from stainless steel or another strong material. The frame and canopy should also be easy to set up. No one enjoys struggling to stretch a canvas over the frame or trying to decipher set-up instructions.


What sizes do awnings and canopies come in?

If you plan on using your canopy often, take into account the size of your family plus the number of friends you might also have over. Canopy sizes range from small, 3-foot canopies to 10 x 10-foot gazebo-style designs. The size of an awning may depend on the quality of its construction. Heavy-duty designs can be quite sizeable — up to 35 x 13 feet or more. Lower priced awnings are more likely to max out around 18 x 10 feet.
Featured Reviews of Awnings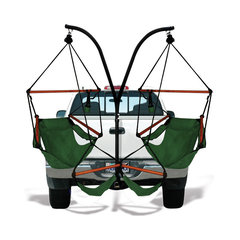 Trailer Hitch Stand With Dual Chairs, Hunter Green, Wood, Hammock Chairs
Awnings
Hammaka Trailer Hitch Stand with Green Hammaka Chairs: This is a great idea, and a wonderful product. I have enjoyed mine which is vry comfortable, and works vry well. I would like to see a feature to allow the hitch poles to be quickly seperated for travel purposes, but I have done that part myself with new bolts and wingnuts. I would also like to see sun shaded for the chairs, or the poles. I have seen these but cannot find them. It would be a good addition or acessory. Overall they are well built, and they attract lots of lookers who have never seen them before, but it appears I am starting a trend here. Thanks for this neat gadget.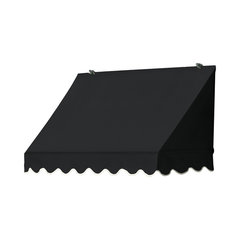 Shadesaver Awning, Black, 4'
Awnings
Looks pretty good: Looks pretty good if the upper rod mounting clamps are installed upside down with the cord hooks above the fabric. This allows the fabric to come out of the opening in the clamps in the same direction as it drapes down to the lower rod. If mounting clamps are installed per the instructions, the fabric drapes unevenly and looks unattractive. The mounting clamps should be manufactured functionally in reverse. If you can zoom into my photo, you can see how the mounting clamps are installed in reverse.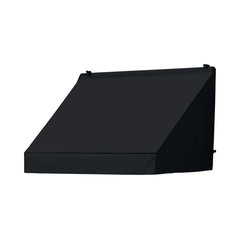 Awnings
Home enhancement!: Good quality fabric-relatively easy to install-looks great and serves the purpose-considerable cost savings over custom made. a little sag-could be a more taught fit! Overall, happy with our purchase!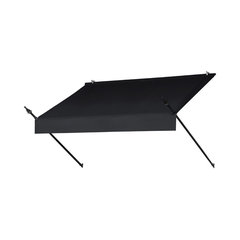 Awnings
well designed product with good quality: Bought 2 of them for my backyard windows. The product came in a nice compact package. Overall, it is a good quality product, well designed for its usage. I found the assembly instructions in the user guide is not that easy to follow as well as cryptic, and wished they should have done a better job with it. Overall, it is a great product.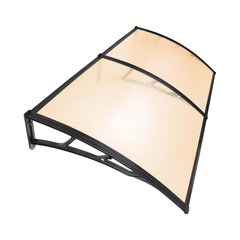 Polycarbonate Hollow Sheets Door Canopy, 40"x80", Brown/Black Trim, 1 -Piece
Awnings
Looks better than I thought: When the builder began to design a roof over our new entry, I could see the time and expense increasing by the minute. We decided to give this option a try and it looks really good. It is not obvious that it is made of plastic. Only drawback will be if wind sends a branch onto it. But a very reasonable price and solution.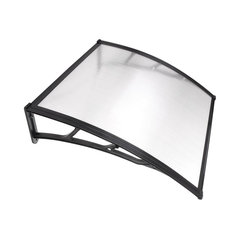 Polycarbonate Hollow Sheet Window Awing, Clear With Black Trim, 1 -Piece
Awnings
Good Cheap Awning: Bought this awning to go over my porch entry to stop rain. Put it up temporarily and wife didn't like it. So put it up at my shed entrance. Looks good and I might buy the other longer one. Great price! Won't be able to tell if the plastic supports will hold up for a couple of years. Definitely not for high wind locations ( like tornado country)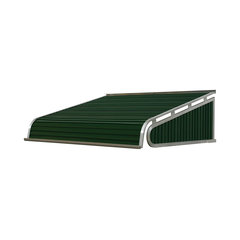 1500 Series Aluminum Door Canopy 72"x30" Projection, Evergreen
Awnings
beautiful awning: I was very pleased how easy it was to assemble from opening box to done 1hour The quality is so good I bought one from another company last year turned out to be a giant disappointed.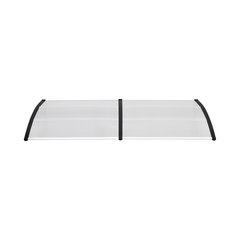 VidaXL Door Canopy, 47"x39", 118"
Awnings
Modern canopy: Product seems sturdy ( we'll see how it holds up in Michigan weather). Looks very nice and modern looking. Easy to put together and up. Product came with cement screws but we don't have a brick home, so we had to purchase lag screws to attach to the house. Happy with the purchase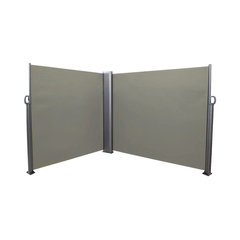 Sunnydaze Indoor/Outdoor Retractable Privacy Wall Side Awning
Awnings
Privacy panel: This product was as advertised. Does exactly what I thought it would. Installed pretty easily as long as you can drill into cement. Instructions could have been clearer. I wish it was a little taller for my Lanai. It keeps out the rain, dries quickly, opens & closes easily, & holds up to the wind.