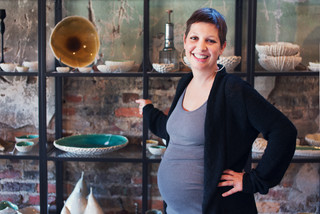 Heather Knight studied ceramics at UNC-Asheville and received her Bachelor of Fine Arts in 2006. After an artist's residency at Odyssey Center for Ceramic Art, she moved on to open Element Clay Studio in 2007. She has taught classes at Odyssey as well as serving on the faculty of the Greenville County Museum of Art in South Carolina. Through her involvement with Etsy, an online marketplace for all things handmade, Heather's work has gained international exposure at a rapid pace. Her work has been featured in such fine publications as Interior Design Magazine, Western Interiors, Charleston Home, House Beautiful, Coastal Living, Cabin Life, Garden & Gun, Bold Life, Portland Spaces and WNC Magazine.

Heather's studio is located in the Wedge Building in Asheville, North Carolina's River Arts District. Studio visits are welcome and highly encouraged.

Artist Statement -
"With my work, I hope to bridge modern design and the natural world by paring down the essence of things to repetitive texture and basic form. I love the way a texture can produce the illusion of movement, the way light and shadow play with one another. I like to keep the work simple, as I strive to make it captivating yet universally understood. Understated and elegant, it should be able to fit in many different contexts.

I work mostly with porcelain, as touch also plays a major role in my work. The feel of the clay is something I will never be able to get away from. The texture is buttery smooth, the color a brilliant white and the working properties challenging.

Focusing on a very limited, almost all white color palette enables me to focus more on texture and surface and calls attention to the brilliance of the clay. I am constantly searching for new hints of inspiration on walks through the woods, beach adventures and through macro photography. The natural world holds a wealth of imagery from which I filter into this work."
Contact:

Heather Knight

Type:

Address:

123B Roberts Street,
Asheville, North Carolina,
United States, 28801

Phone:

(828) 275-8279

Website:
Projects
Ideabooks
Professional Categories in Asheville
Artists and Artisans near Asheville