Decorative Accents
Home accents have a big job to do: make a house feel like a home. You can have interesting furniture, but the little touches give a home its personality. Whether you're into candles and coffee table books, or poufs and home fragrances, these decorative touches are a reflection of you. So choose wisely, but have fun, these small decor pieces are easy to move and replace. Follow these tips to help make the most of your home accents.


Put your decorative accents to work.

They don't have to be solely about looks. Items such as bookends, candleholders and decorative baskets, boxes and bowls are all meant to serve a function. Maximize their potential by using them for both display and storage. Other accents, like jewelry boxes and vases, can often stand as decor on their own. But when you actually store earrings or display fresh flowers, you'll find a certain satisfaction in using them as they were intended.


Rotate home accents for a change of scenery.

Living with the same decor day in and day out can get old. Objects start to blend into the background, and you don't appreciate things like the beautiful artificial flowers you bought last year. Rotating your decorative accents will bring new life to your space and can even make you feel like you're in a completely different world. Try putting photo albums out on display and swapping out images in picture frames. If you have live plants indoors, move them around or change their current pots and planters. For a travel-inspired look, display knickknacks like statues and figurines, telescopes and world globes on shelves and tables. The combinations are endless, so if you get the itch to rearrange your home accents, go for it!

Browse our decorative accents section to find products you'll love.
1 - 36 of 239,998 products
Sponsored Products
Featured Reviews of Decorative Accents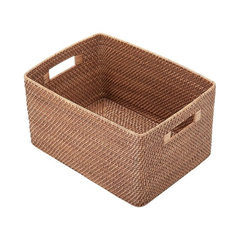 Decorative Accents
Rattan Baskets: Baskets were lovely and well made but BIGGER than advertised. I had been looking all over for baskets less than 13" and because of the way these are made they take up 13" space even though they measure just under 13" on top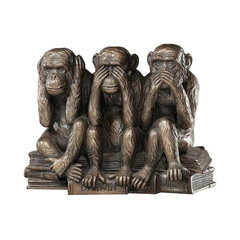 Hear-No, See-No, Speak-No Evil Monkeys Statue
Decorative Accents
Crazy Monkeys: I was surprised by the weight of this item. It was love at first sight when I took it out of the box. No detail was spared on these monkeys. I especially like how their 'thumbs' are displayed. Very glad I purchased this.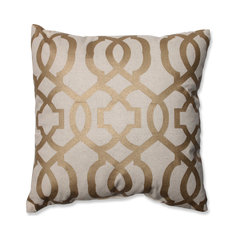 Geometric Throw Pillow, Gold and Linen
Decorative Accents
True to Picture: I purchased this to go with an arm chair in the living room. The gold color is not too yellow, metallic and compliments the brass accents in my living room. I appreciate the fabric is thick linen and does not seem like the cushion will lose shape over time. Definitely high quality pillow.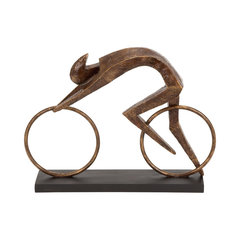 Polystone Bicycler Figure, 14"x11"
Decorative Accents
Great Product at an Outstanding Price!!!: Clean, simple and very modern looking, but would fit fine in any decor. Well made and packed EXTREMELY well. Whoever designed this is so creative and talented. Our tv console is 10' wide so it makes the sculpture look small, but if you click on the pic to enlarge it, the cyclist is really a nice size. Those blue lines are future shelves, and we may put the cyclist on the bottom right-shelf.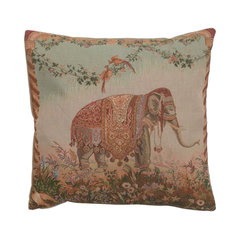 Elephant I European Cushion, Wall Tapestry, 19"x19"
Decorative Accents
Beautifully crafted: The description of this tapestry pillow case does not do it justice. The case is well-made, with a heavy canvas back and zipper. The item arrived on time and was well protected in a fedex carton. Very pleased with purchase.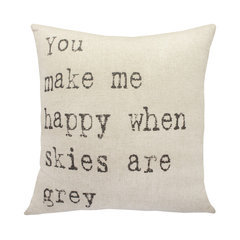 Decorative Accents
color a bit different than expected: Its a bit more pink or peach colored than I thought. it looks purely burlap colored in the photo but when I received it, it had a pink hue that Im not completely fond of. otherwise a great pillow.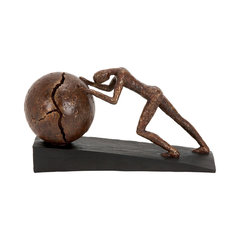 Contemporary Polystone Sculpture Man Pushing Sphere Bronze Color Decor 58264
Decorative Accents
Very happy with this purchase: I love this sculpture! It is large and well-made. The bronze and black are striking. I have placed it on a shelf in my home office bookcase and really enjoy looking at it as I walk into the room. I understand what it symbolizes, as far as Sisyphus goes, but to me it also represents the fact that we have struggles sometimes in life, but we persevere and conquer them.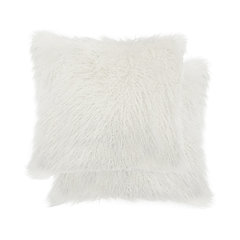 Frisco Mongolian Sheepskin Faux Fur Pillows, Set of 2, Stone White, 20"x20"
Decorative Accents
Decent Pillows: These are great pillows. The color was what I wanted (off white). and they look nice. They do shed a little but not much. I gave 4 stars because it took 7 days for processing! That's ridiculous. So I had to wait over 2 weeks to get them. Also, they came vacuum sealed and flat as a pancake, which I didn't like. Luckily they fluffed back up. Overall, good pillows. I feel like they are a bit pricey though for the size. I found bigger and more attractive pillows locally at my grocery home store for way less.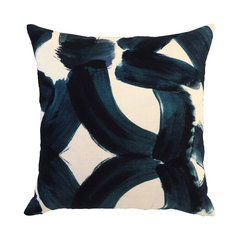 Rilo Printed 22" Throw Pillow by Kosas Home, Indigo
Decorative Accents
Gorgeous!!!: I searched several different websites for these pillows, and was so happy when I found them on Houzz. They are the perfect size, with the perfect amount of "fluff" inside. The navy blue color is seriously gorgeous. Couldn't be happier with them!!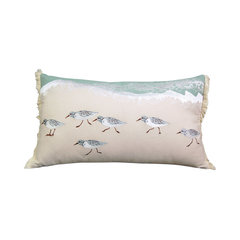 Sandpiper Sprint Coastal Lumbar Pillow
Decorative Accents
On the positive side I love the sandpipers and the colors on the pillow.: On the positive side I love the sandpipers and the colors on the pillow. However It's bigger than I thought it would be (I probably should have looked more closely at the dimensions before buying it), and it has a small stain on it, which is disappointing.