Betty's Room, LLC
Interior Designers & Decorators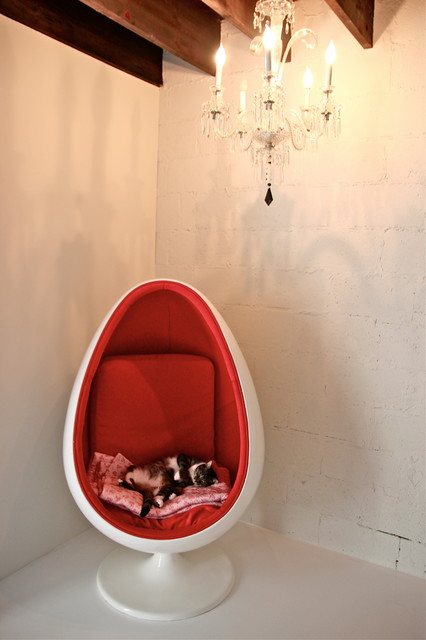 This photo has 5 questions
What Houzz contributors are saying:

Here, McQueen relaxes in an egg-shape chair — the only punch of color in the room. A nonpigment resin coats the room's
white floor
. Kim had her contractors install 3/4-inch plywood on top of the space's subfloor. A resin specialist installed the resin on top. "It stinks for days, but once it's set, it's amazingly durable and beautiful," she says.

2. Create sheltered spaces for pets to lounge in. Pets need places where they can decompress, just as you do. Those areas don't always need to be completely away from humans, however. Our pets are social but good at self-preservation, just like we are. Most animals, including humans, feel secure when danger can't sneak up on them. While in today's world that's not as likely as thousands of years ago, we're still hardwired to think that way. So providing a secure spot where a pet can really let down his or her guard is important. This feline feels at peace because the chair has a high back and is in a corner, assuring the cat that nothing's going to sneak up. Provide that security and you'll have a calm, happy pet.

You should also consider the following three factors when choosing a fixture:1. Ceiling height and room size. Larger rooms and higher ceilings require bigger fixtures.2. What's underneath the fixture. You don't want your chandelier to overpower your dining table or kitchen island, so measure the distance from your ceiling to the table and have those measurements on hand while you're shopping. (A good rule of thumb is to hang a light 28 to 32 inches above a dining table, but it can be higher or lower, depending on your preference, the size of the chandelier and your ceiling height.)3. What is the shape of the chandelier? Lighter, more open fixtures often appear larger. "A good chandelier will fill the volume of space that surrounds it, serving as a focal point of the room, but it must not overpower everything else that is going on," says White.More:Find chandeliers in the Products sectionFind an electrician near you
What Houzzers are commenting on: