Sponsored Products
Featured Reviews of Sofas and Sectionals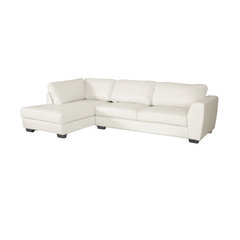 Baxton Studio Orland Leather Modern Sectional Sofa, White, Left
Sofas and Sectionals
TV room sofa: I purchased this sofa so my shih Tzu could sit with me in the TV room. It worked out perfect but it does sit a little low if you need to sit 17 inch or above this is the wrong sofa for you. It cleans up easy with baby wipes. It is perfect for movie nights. I would give it 5 stars but it sit kinda low!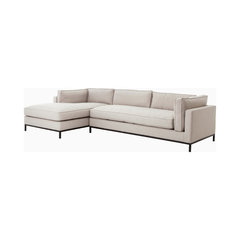 Atelier Grammercy 2-Piece Sectional With Left Arm Chaise
Sofas and Sectionals
Atelier 2 piece sectional: Nice piece, Fabric is rough and sort of stiff. It's not a sofa that you cozy necessarily. Nicely made, substantial in size. The color is light gray...sold as "sand" which I had hoped to be light beige. We will make it work because it's a hassle to send it back.. we bought two so that makes it double hard to bundle this up and return.... It is a nice sofa.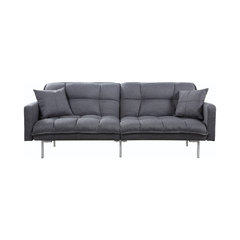 Modern Plush Tufted Linen Fabric Splitback Sleeper Futon, Dark Grey
Sofas and Sectionals
Cute futon, worth the price: My ordered arrived in a timely manner. I enjoyed seeing the leg pieces hidden inside a zipper pouch on the underside of the futon. Legs were easy to install and armrests slide easily (but securely) in and out. I've only used the futon a few days, but I think it's great so far. It's comfortable and looks nice, like in the pictures. Pillows aren't very good quality but I had planned to buy accent pillows anyway. I'm happy it even comes with pillows. :) It's small, but I expected that. Now, I hope to wait and see how long it stays nice.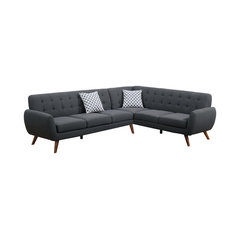 Modern Retro Sectional Sofa, Ash Black
Sofas and Sectionals
Great sectional for the price: We received this product 2 days ago. It came in 2 large boxes and was very easy to assemble. It is a nice looking piece of furniture and we ordered the ash color and it looks as it does online. The bottom cushions are soft and comfortable. The back cushions are very hard, It comes with 2 throw pillows but I ordered additional pillows to provide more comfort. The couch is comfortable to lie down on and the arms are comfortable to rest your head on. We were looking for an inexpensive couch to put in the kids playroom and this works perfectly. We have it resting against a wall on both ends, it may not hold up that well if it does not have that back support. I would definitely recommend it for the price and purchasing from Houzz was a pleasure. They had this sectional half the price of other websites.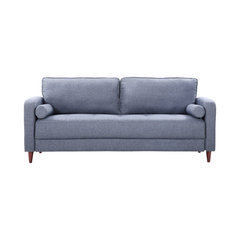 Mid Century Modern Linen Fabric Living Room Sofa, Dark Blue
Sofas and Sectionals
aesthetically pleasing!!: I think price is completely fair for what it is!! With kids 6,3,2... I give it about 6 months to a year :D ... but that's ok, for the price... i can't complain! (think--- mirame y no tocame--- look at me, but don't touch me). Positively thinking, I love that I'll be forced to redecorate come next year. haha! love our new couch!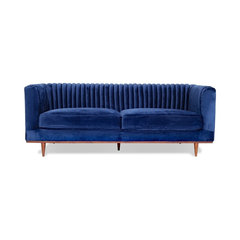 Sofas and Sectionals
Beautiful Blue Velvet Mid Century looking sofa: Love, Love , Love this adorable Sofa. It came bY FED EX Freight with only one delivery man. My super had to help him get it into the apartment. And then the Fed Ex man left because he needed to return to his truck. So we had to have out super put the legs on the Sofa and get it out of the giant box =, etc. It was certainly not a White Glove delivery. Nevertheless it is a very handsome sofa and looks l=great in out piano room.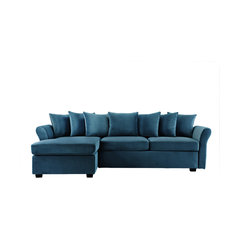 Modern Velvet Sectional Sofa, Large L-Shape Couch with Extra Wide Chaise Lounge
Sofas and Sectionals
Velvet Blue Sofa in my Comic themed media room: I love this! It's perfect for my small space. Has a very low back (not the best furniture piece for large people. My husband is 6 4 and will be restricted to an adjacent leather recliner.) But, it will be great for a sitting space. I put this in my second living area where I have a comic book themed game/media room. It's perfect because of the retro velvet blue color.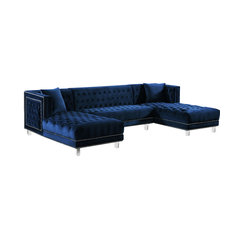 Asher 3-Piece Velvet Sectional, Navy
Sofas and Sectionals
LOVE IT: This sectional is the focus point in our house, everyone that comes in loves it, but most of all we feel comfortable and happy on it. We waited a bit but customer service and management provided excellent assistance.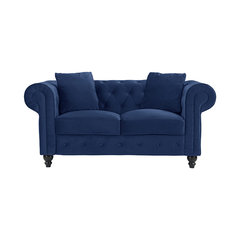 Classic Chesterfield Loveseat Sofa With Scroll Arms and Accent Pillows, Blue
Sofas and Sectionals
stylish love seat: Just received this cute love seat. It did require assembly but it was mostly lining up the metal brakets and sliding into position...my husband and I tried to assemble! However, I did have problems with the seat section on one side reaching the side arm. The next day my son came and got it to reach in a couple minutes! Directions refer to Section "K" which there is not a K...I think they mean "C" ??Anyway...it is cute, small, firm, and great at the foot of my bed...it seems sturdy too. It makes a great occasional or accent sofa, but I wouldn't want to sit on it for regular tv watching. Would have been 5 stars but since we had a little trouble putting together I would make it 4.5. Good value for a budget price.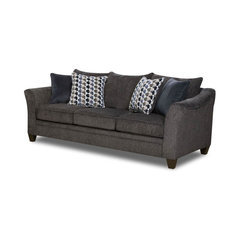 Sofas and Sectionals
Beautiful grey-blue: This pull-out couch is fantastic. It's a little larger then I expected, but I ended up loving how deep and cozy it is. The size of the mattress was equivalent to a queen. My parents slept comfortably on it for a few nights while they were in town. They were surprised at how comfortable it was to sleep in. Will probably get a mattress pad to put on top of the bed before our next visitors. Comes with 4 extra throw pillows.