Sponsored Products
Featured Reviews of Sofas and Sectionals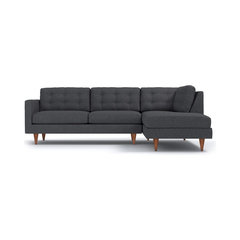 Logan 2-Piece Sectional Sofa, Smoke, Chaise on Right
Sofas and Sectionals
Worth ordering a sofa unseen? Yes!: I'm going to sum up my review before getting into the details. It's only been 3 days but it's beautiful! It's cozy yet firm, fabric is amazing, no regrets. Almost a year ago we came across apt2b within that same week they had a 20% off for Martin Luther day. We were surprised by such a great sale but had not gotten their free fabric sample, so we were scared to order. We really liked the Logan sectional, I sent them a email asking if other colors could be an option. Alex got back to me right away and said no worries, they would be happy to use any color we liked from their samples. I think I let him know that we would wait for another sale. He let me know that no other sales like the 20% would be anytime soon. And offered to extend the sale to us!!! I'm sorry but this is beyond great costumer service! And guess what we passed on it because we still didnt have the samples and to tell the truth we were still hoping we could find something at stores in town.We never did and so after deciding on color we waited for another sale. And waited... November... Thanksgiving friday they had 15% and we ordered. I think we got an email on 29 (?) to confirm our order, by December 10 it was ready to be shipped! we figured we would have it by Christmas. .. nope... I was surprised by how long but I guess with thanksgiving, Christmas, and new years I should not have been that surprised. I even emailed them which again they got back to me right away that there wasn't much they could do. To deliver from CA to Wisconsin during the hoildays. .. so we waited. Our schedule day was January 10th. We got a call the day before saying they could deliver that friday. January 9th we got our sofa. The delivery guys were great! fast with set-up. So happy we waited! This doesn't compare to anything we looked at store. We would have paid about the same for S/H even if we had found something near by. Every time I walk in the living room I can't help but smile. It's beautiful!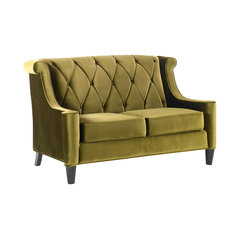 Melbourne Velvet Love Seat, Green
Sofas and Sectionals
Love my Barrister Loveseat ~ Note color: Very eclectic piece adds a little something to a room. I love more of a sage green... This however is not. If you look at the 3 pictures they have posted to show you the loveseat it is most like the straight on shot. Much more "brighter" than a more muted tone (sage green) . I still love the piece and I'm keeping it. Side note I had to redesign the room due to the variation in colors.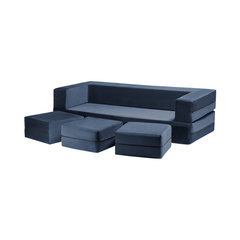 Zipline Convertible Sofa Bed and Ottomans With Washable Cover, 4-Piece Set, Mari
Sofas and Sectionals
So far, so good!: Order arrived on time. It came in a big bag which you have to unzip and then let the foam sofa shape come to life. Our's was for a kids bonus room. My son had to sleep on it the first night and gave it a thumbs up;) Looks pretty durable so far. We may get another to match...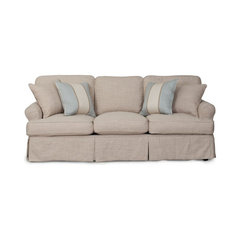 Whitman Sofa Slip Cover Only, Linen
Sofas and Sectionals
Beautiful: It's a very well made and beautiful cover I only wish it would have been the right size for my couch. If this would fit anyone's sofa I highly recommend . Note that it will not fit an 88" couch like the website says. Only 80" couch . I found out the hard way and if I want to return I have to pay the shipping for something that wasn't my fault . I sure wish it fit because I love it.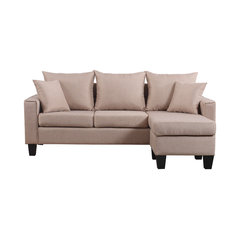 Modern Linen Fabric Small Space Sectional Sofa with Reversible Chaise, Apricot
Sofas and Sectionals
Comfortable: Couch seems very durable and it's a good size for the room I needed it for. I love the color! The only reason I didn't give it 5 stars was because I found it a little difficult to put together, other than that, really like it!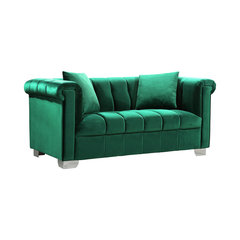 Kayla Velvet Loveseat, Green
Sofas and Sectionals
Soft, firm, and lovely: This fabric is beyond soft and beautiful. The seats are firm and you don't feel like you're falling into the couch. They do appear more blue-gray than just gray, but they are entirely lovely and even my guests sit and just run their hands on the fabric, complementing how amazing it feels. Highly recommend!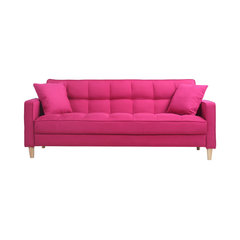 Modern Linen Fabric Tufted Small Space Living Room Sofa, Pink
Sofas and Sectionals
I love this couch!: I downsized and moved to another state. I needed a narrow couch as space is limited. This couch fit the bill and it is so attractive. My sister loves it (And she is very hard to please). The price clinched it for me. Excellent buy. Thanks so much.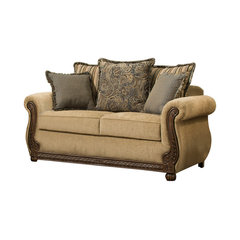 Simmons Upholstery Outback Antique Loveseat
Sofas and Sectionals
Product arrived with just a couple bumps after 2 delivery attempts because the driver couldn't find our house??: Product arrived with just a couple bumps after 2 delivery attempts because the driver couldn't find our house?? Anyway, true to other comments the holes for the legs were covered with fabric and compromised with stables blocking the opening. It took a little work to brake the staples off with needle nose pliers in order for the legs to screw in. Also, I strongly dislike the fact that there's an obvious seem on both arms of the couch and they are in direct view so the pillows won't hide the weirdly placed lines. Not super thrilled with the overall appearance but it'll work until we're ready to invest in a better quality product.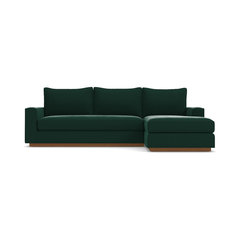 Harper 2-Piece Sectional Sofa, Evergreen Velvet, Chaise on Right
Sofas and Sectionals
Highly recommend before purchase: Color swatches were sent quickly and really make a difference in deciding the color and fabric. I highly recommend getting these first because the pics alone don't do the couch justice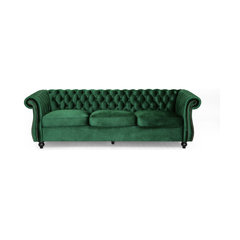 Vita Chesterfield Tufted Jewel Toned Velvet Sofa With Scroll Arms, Emerald
Sofas and Sectionals
Gorgeous dark purple Chesterfield couch: I love this couch. It is even more beautiful in person. It is very comfortable also. I have dogs and their fur comes off the velvet fabric easily. The purple is more of a deep eggplant. I could not be more pleased with my first purchase!