Rock Paper Hammer
Architects & Designers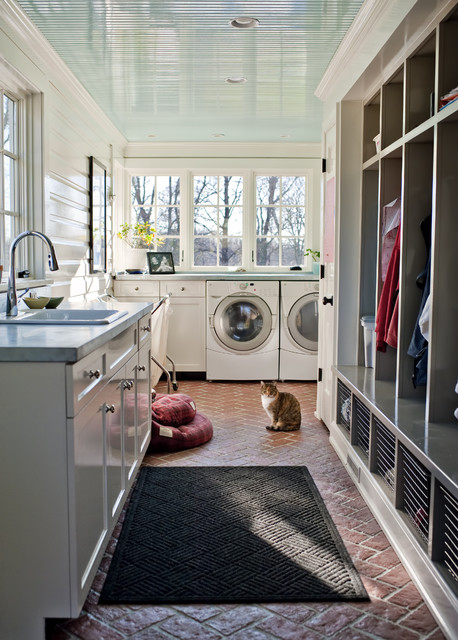 Laundry Room
URL

Category

Laundry Room

Style

Traditional

Location

Louisville
This photo has 31 questions
What Houzz contributors are saying:

9. Warm brick floors in Kentucky. The
herringbone
brick floor adds an unexpected element to this cozy laundry room. Houzzers loved the burst of color from the glossy turquoise ceiling too — and, of course, a few mentioned the sweet cat.

Mudroom. What could be more efficient than having a washer and dryer in the same room where dirty socks, wet gloves and soiled jackets land? This beautifully integrated space does an admirable job of keeping the laundry pile to a dull roar. Bonus points for that gorgeous sky-blue ceiling, a trick borrowed from the classic front-
porch
technique.

Eden was a toddler when I began to scheme how I could delegate laundry. We didn't have room in our budget for a cleaning service, so I didn't know how I could swing offloading my laundry, but I was desperate. Of all the endless tasks of home keeping, laundry is the worst: so many steps and it never, ever ends. And then I noticed Eden's older brother and sister, two bright and able-bodied children who, with just a little training, would be perfect laundry minions. And, if we labeled it "Learning Responsibility and Life Skills," it would be considered good mothering rather than lazy homemaking. Yes! I began to teach the big kids, then 10 and 12, how to do their own laundry that very day. It took quite a while — months and months — but eventually they began to establish their own rhythms of doing laundry. For my son, it's when he runs out of clothes, give or take a few days.
What Houzzers are commenting on: