Gardening Tools
While it may be difficult to decide where to start when building a library of garden tools, knowing where to stop is even more so. If you are just starting your outdoor gardening party or are simply looking to expand your arsenal of outdoor gardening supplies, there are undoubtedly a few essential gardening tools you'll need. Consider the following pieces to ensure you have the right tool for every job the garden throws your way.


Hand Tools

These are key to maintaining the original order of your designs and vegetation. Keep these tools protected in a shed or potting bench and be sure to periodically clean, sharpen, or oil them to prolong their life.

Pruners: Pruners are handy to carry around throughout the yard for quickly trimming and snipping twigs and small branches.

Spades and Shovels: Different sized spades and shovels are suitable for different garden tasks. Make sure that your shovel has solid construction since shovels help with the more challenging and physically demanding tasks of digging holes for larger plants or pulling out dead vegetation.

Trowels: Keep a trowel handy for digging smaller holes to plant bulbs or other smaller plants.

Rakes: Rakes can be used to loosen and level soil as well as to collect and gather vegetative debris dropped from trees or other plants in the garden.

Cultivators: Cultivators can be gas-powered or run by hand depending on the soil that needs to be tilled.

Hoes: Use a hoe for tilling soil, weeding, and for digging narrow trenches in the soil.

Shears: Shears are efficient at smoothly shearing hedges or evergreens, as well as for deadheading.

Knives: A knife is generally convenient and useful to have in any sort of working environment. In the garden, if you need to trim string or open packages, an outdoor knife is your best bet.

Forks: Forks are great for loosening soil or for hauling leaves or compost.

Wheelbarrows: In a large property or if you need to haul a wide variety of tools around with you, a wheelbarrow not only moves a large amount of soil or mulch at once, but can also carry tools and pots around as you work and change tasks.


Gardening Accessories

Also make sure that you consider the following accessories when outfitting your gardening tools. These pieces will expedite and enhance your overall gardening experience.

Gloves: Make sure to buy yourself a good pair of gloves. Available in materials ranging from leather to rubber and cloth, think about the environment that you will be working in and make your glove decision accordingly. Is it typically wet in your garden? Make sure the pair that you buy is waterproof. If you plan on dealing with plants with thorns and scratchy long branches, consider a durable material with a longer cut.

Gardening Baskets or Carts: Gardening baskets or carts are essential if you plan to grow edibles in your garden. When harvesting, bring one along with you so that you don't need to constantly go back and forth between the house with your crops.

Potters Bench: Prepare your potted plants and keep your gardening tools beautifully organized with a potters bench. Rustic to modern designs are available for use outside or in a mud room. A potters bench is not only functional, but it's also extremely charming and attractive to add as an accent to any garden.

Kneeling Pads or Seats: For extended hours spent weeding or planting, a kneeling pad or seat is essential for your knees or back.

Labels: Buying plant labels that can withstand the elements of being outdoors and can add a personal touch to your garden and are fun and informative decorative accents. Consider even buying labels that can be interchanged depending on season and what's currently being grown.
Sponsored Products
Featured Reviews of Gardening Tools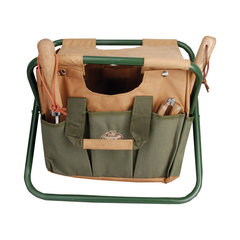 Gardening Tools
Step Saver: This handy stool is light weight, holds all the tools I need for a task and is easy to move from space to space in the garden. It "saves" the lower back and knees. This is my second one. The first lasted 8 years with no special care.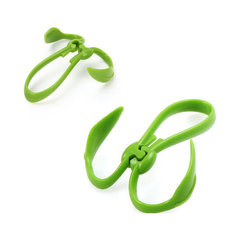 Ultimate Plant Clips, 50 Pack
Gardening Tools
plant clips: Since the growing season isn't really here yet, I've been unable to try the clips. I'm an avid gardener - and just looking at the items, they appear to be a very useful product. I'm anxious to use them.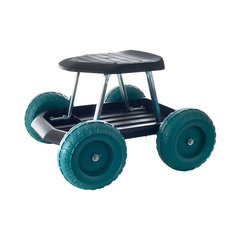 Rolling Garden Work Scooter with Tool Tray by Pure Garden
Gardening Tools
Can't Wait to roll in garden....: This scooter came in pieces and was pretty easy to put together. I used it in the house to scoot around md can't wait to use it outside. I would only give it a 5 star after I had the chan e to use it for awhile outside. But overall, seems well built and sturdy.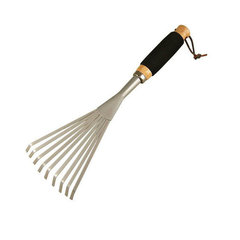 Gardening Tools
My rake!: I have arthritis in my wrists which makes raking and sweeping actions very painful. This short handled rake with a wide grip make my gardening pain free and enjoyable. It was inexpensive and arrived quickly. We just built a new house and I used Houzz for ideas.. I have never purchased anything on houzz, easy and fast! Thank you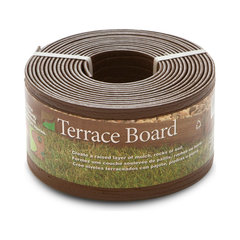 Terrace Board Edging, Brown
Gardening Tools
Best edging I could find: This is affordable and looks pretty good. I am using it to separate xeriscape pebbles from beds. My only complaint is that the stakes should be longer for the 4 inch height. However, I keep ordering it.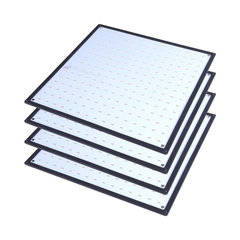 225 Ultrathin Led Hydroponic Grow Light Panel Indoor Plant Blue Red Smd Lamps, S
Gardening Tools
High marks: I give this light a high 5. It is giving my plants plenty of light. Growing well.. The listed distance is 37 " above plant. All the foliage is getting plenty of light. Just ordered a backup light. Am pleased with this item.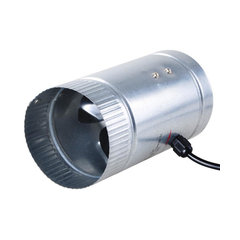 4" Inch Inline Duct Booster Cooling Fan Exhaust Blower Aluminum Blade Us
Gardening Tools
In line exhaust blower: I am building a hood for over my wood furnace which this will be part of. I have looked it over and test ran it. It is quite and runs smooth. I am sure it will work in my application. Thanks Dave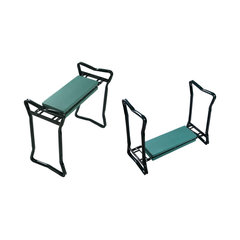 Garden Kneeler and Seat, 23"Lx11"Wx19"H
Gardening Tools
This is fantastic.: This is fantastic. It's a great sitting height & comfortable for kneeling. The handles help me up after a long session of gardening. Best of all it folds flat for easy storage. Love it!