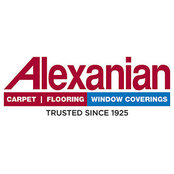 Alexanian Carpet & Flooring
| | |
| --- | --- |
| | Alexanian Carpet & Flooring |
Commented: What is the brand/stain color of the hardwood floor?
Hello Thank you for your interest and question. This is engineered, 5" wide plank Hickory hardwood flooring. It is part of our "Signature by Shelley Alexanian Collection" and is sold directly through...
Commented: Backsplash
That's too bad, wish you lived closer. Have a look in a tile store near you and I think you will easily find the look you are going for. In my opinion, I would definitely lean towards a porcelain tile...
Commented: Sofa
Hello and thank you for reaching out to Alexanian Carpet and Flooring regarding the sofa dimensions. Unfortunately, as a flooring company we do not have this information, however, I am providing a li...
Commented: Love the countertops! Could you share what kind are?
Hello and thank you for your question. Alexanian Carpet and Flooring supplied and installed the hardwood flooring in this project. To answer your question I will direct you to the designer, Krista o...
Alexanian Carpet & Flooring
tagged a photo with: "Transitional Staircase Carpet Runner"
March 5, 2019