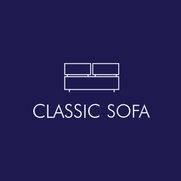 | | |
| --- | --- |
| | Classic Sofa |
4 Houzz Awards
3 Houzz Badges
Contact Info:
Classic Sofa
728 E. 136th Street
Bronx, NY 10454
Typical Job Costs:
$500 - 15,000
*Cost Details under Business Description.
https://www.houzz.com/pro/classicsofa copied to clipboard
Manhattan Upholstered Furniture & Accessories Firm | Best of Houzz 3x
page_type: prop_plus_profile
Classic Sofa has been designing and manufacturing bespoke, bench-made furniture for over 40 years. Although we've become known for the pieces we produce, our greatest asset is our customer service. We work with our clients step-by-step as they describe to us their aesthetic needs. At the end of the process, each piece is tailored for each client down to the inch. All this is made possible by the work done in our three factories in the New York City area. Here, expert craftsmen working in the industry for decades hand-make each piece. In the end our goal is to create something truly unique, in both process and product, for every single one of our clients. We offer a wide array of services at different price points. At one end of the spectrum we do smaller jobs, which would include services like cushion re-stuffing and repair. And at the other end we can design and manufacture extra large sectionals. In between, we produce sofas, daybeds, chairs, headboards, chaises, and virtually anything else you can dream of within this sphere.
Services Provided
Custom Furniture, Furniture Sales, Brand New Custom Pieces, Reupholstery, Hospitality and Restaurants, Furniture Design, Design Consultations
Areas Served
Bergenfield, Borough of Bronx, Cliffside Park, Dumont, Eastchester, Fort Lee, Ft Lee, Great Neck Estates, Greenburgh, Guttenberg, Harrison, Inwood, Long Island City, Manorhaven, Mount Vernon, Munsey Park, New Milford, New Rochelle, New York, North Bergen, Old Tappan, Palisades Park, Plandome, Plandome Manor, Port Chester, Port Washington, Queens, Ridgefield, Ridgefield Park, Roslyn Harbor, Rye, Saddle Rock Estates, Sands Point, Scarsdale, Teaneck, Tenafly, Thomaston, Union City, Weehawken, West New York, Westwood, White Plains, Yonkers, Edgewater, Fairview, Hoboken, Jersey City, Manhattan, Secaucus, Bronx
Awards
House & Garden Best of the Best Award - 2005 and 2007
Featured Review
Blake and Jacob are a pleasure to work with because they go out of their way to make sure clients are happy. However, even more important to me was the skill of their upholstery staff. There are very few businesses left that produce bespoke custom
Read Full Review
Write a Review
29 Reviews for Classic Sofa
An amazing experience. Blake is an amazing guy and walks his talk. He and the guys at Classic Sofa reupholstered an antique love seat for me and it was done with great attention to detail. I recommend them very highly!! Would use them again in a heartbeat.

Blake and Jacob are a pleasure to work with because they go out of their way to make sure clients are happy. However, even more important to me was the skill of their upholstery staff. There are very few businesses left that produce bespoke custom furniture at a reasonable price point. My sofa was delivered on time and looked even better than I'd anticipated.
Working with Classic Sofa was a pleasure! None of the ready-made sofas we looked at were the right size for us so we decided to go with a custom sofa. Blake was really helpful in guiding us to customize the design, measurements, and fabric of the sofa, and he was patient as we kept changing our minds about some details before we made our final decisions. It turned out the sofa had to be disassembled to fit into the room in my apartment, and the workmen were great in taking the sofa apart and reassembling it in the room. The workmanship was of excellent quality, and the best part was sitting and laying on it once it was completed - it is perfect!
We bought our sofa from Classic Sofa 12 years ago - custom made to the perfect dimensions for us - and everyone who sees it and sits on it, loves it! After 12 years of little kids, the fabric started to wear, so we went back to Classic Sofa since we loved it so much. They reupholstered, and basically rebuilt, the sofa so that it's brand new. And we still love it after all these years. They are professional, timely, thoughtful and helpful in the design process and the work is of the highest quality.
For me this also was Classic Sofa redux. After 30 years and one re-covering it was time for 2 new sofas. How do you say wonderful things about a company, their product, and the people who work there. 5 stars is not enough. Blake and his team are amazing, my sofas are gorgeous and i guess that they will probably outlive me
I had my entire living room redone and used Blake and his team. He constructed a sofa, club chair, two poufs and reupholstered my dining chairs. The finished product is excellent. This is the third sofa that Classic Sofa has made for me and I have never had an issue. I highly recommend them
January 29, 2018
Last modified:

August 2, 2018
Classic Sofa re-upholstered a couch for me seven years ago, before Blake was involved in the company. From the start, the cushions lost feathers galore. On an impulse in September, I contacted the company again hoping that they might give me a reasonable price to refresh the sagging long cushion of the library couch. Blake said he would stand by the company's work - picked it up, instantly saw what needed to be done, refurbished the cushion, and returned in a very short period of time and at a very reasonable cost. It is now amazing - plumb, comfortable, even my back pain is gone! Just an excellent all around experience thanks to Blake, Jacob and the company. And there are no more feathers on the floor!

We bought our first couches from Classic Sofa more than 25 yrs ago. Recently they've begun to look a little ratty, so we decided to reupholster them earlier in the Winter. They came back to us a few weeks ago and they are STUPENDOUS. The fabric is SO beautiful and the work is SO carefully done. It's like we have an entirely new living room!! Dealing w/Blake Anding was a pleasure. He is cordial & courteous. I can't recommend Classic Sofa highly enough!!
We recently engaged with Classic Sofa for the second time to create a custom U-shaped tufted sofa. We first worked with Classic Sofa 12 years ago when we lived in NYC and they built our 1st custom sectional. We no longer live in NYC and thus the entire project was handled remotely, and Blake and his team were fabulous with providing design sketches, fabric samples, and overall piece of mind the entire time. Once again, they built a one-of-a-kind piece of incomparable quality. Furthermore, their courteousness and overall dedication to getting things just right for their clients is a breath of fresh air. I very much look forward to our next project with Blake and the team!

Reed & Acanthus Interior Design
I am an interior decorator from CT and have worked with Classic Sofa many times throughout the years. The furniture is high quality and my clients love the fact that they can customize size, fill, finish, etc on any style and have it delivered in half the time of other vendors - even during the holidays! Blake and Jeff are professional, detail oriented and deliver top notch customer service. Classic Sofa gets my highest recommendation.
We needed two sofas for our living room arrangement. Our discovering Classic Sofa was heaven sent. We were courteously welcomed. We were shown a wide variety of sofas as well as covering materials that Classic Sofas could provide us. The work done on what we chose was careful, detailed, of the highest quality, and done in very reasonable time. And at last we had our two sofas that are perfect for our needs and will last us a long time. In a word, we feel we could not have done better than work with Classic Sofa:. enthusiastically and unreservedly recommended!! Five Stars!!
I found Classic Sofa and Blake, and now have the most beautiful and comfortable Knole sofa in my den. Blake was by my side, tirelessly helping me the entire time. He found the fabric that took my breath away, and love to this day. He shopped with me for the finials. Just recently I had Classic Sofa change the stuffing in another sofa I own to their classic cushion inserts. It came out great!
I'm an interior designer from Boston and I can't say enough about the work that Classic Sofa of NY has done for me. They are detail oriented and a pleasure to work with. They have done everything they can to ensure that our custom made sofa met our expectations. We requested special fill, sprung seats, custom dimensions, memory foam mattress and locking casters on our ottomans. The were ready and able to make extra pillows too. It is hard to find quality workmanship but these guys deliver.

Working with Blake at Classic Sofa was one of the most creative and pleasant experiences. The two sofas we crafted together are the center piece of our living room and truly define our new home.
We bought a full-sized sofa from Classic Sofa a number of years ago and we always loved it- beautifully built, very comfortable. We had it re- covered last year with a fabric Classic Sofa worked hard to help us find. -Blake even dropped off fabrics to check out at our home. We were so happy with our original sofa that we then bought a sleeper sofa from them. The company has always been a pleasure to deal with and we are very happy with both our sofas now.
Classic Sofa custom-made a sofa for me, which was executed beautifully, to my exact measurements. This was the third sofa I ordered from Classic, and have always been very impressed with their work and their personal and professional attitude.

Classic Sofa coordinated the complete refinishing of our bathroom sinks and worked tirelessly to ensure we were 100% satisfied. Working with Blake is always a pleasure as he has a great knowledge of the industry and is highly adaptable especially with working around our occupancy. Great workmanship and wonderful customer service!
July 12, 2016
Last modified:

July 12, 2016

I have been buying sofas and chairs from Classic Sofa for a very long time; I think it must be more than 20 years! Their products have always been highly satisfactory and a source of pride and pleasure.
I've worked with Blake and the team at Classic for a number of years now. The work is high quality, quick, and the staff is always responsive. I'd highly recommend Classic Sofa. Jeff Krauthamer, London NYC Hotel.
I ordered a custom sofa from Classic Sofa. They built me a beautiful, comfortable sofa. They were very easy to work with. And the delivery went very smoothly. I highly recommend them.
I sold my apartment with my classic sofa included. I thought how hard can it be to find another sofa? Classic sofa had moved out of the city. I could not find another sofa as comfortable anywhere! I went through four sofas and a lot of money. Then I was driving and saw the new classic sofa store on Charles street. I stopped with excitement, went in and four week later I am sitting once again in comfort! I am not selling my apartment nor my sofa. Vickey
I had a bad experience with this company. I ordered on January 20 and finally received the correct sofa on July 6. When I paid my deposit, I was told to expect delivery in about 5 weeks. After not hearing anything for a couple of months, I checked in to see what was happening. I was informed via email, two different times, to expect delivery. Both dates passed without anyone from CS contacting me. Both times, I had to contact them. I came to find out later that my sofa was not under construction either time those emails were sent. At that point, since the sofa had not been started, I wanted to cancel and offered to pay for any fabric that had been purchased. The owner's response to me on the phone was disproportionately angry, so much so that I contacted a consumer agency. Again, my hope was to simply pay for any fabric and move on to purchasing a sofa elsewhere. Instead, the owner finally informed me that a worker has passed away and that is why the sofa had not been started. He again was quite angry with me, accusing me of being insensitive to the situation, despite the fact that I was hearing of the accident for the first time. Then when they delivered the sofa, it was the wrong color. When the delivery men called the owner and I got on the phone, he angrily informed me that the color was on my invoice, as though the color mixup was my doing. On the invoice, the words describing the color were correct, but someone had written the wrong color number. They did give me a discount and they did remake the sofa but the end result is disappointing. The color is beautiful and the sofa looked nice when they dropped it off but after sitting on it only a few times, the bottom cushion fabric is puckered and the cushion itself is misshapen. My plan now is to give it to charity and purchase a replacement elsewhere.

Comment from Classic Sofa:
We strive to make all of our clients 100% satisfied with the finished product. In this instance, there was a mistake in the fabric color, however we expedited completion of the new sofa with the correct fabric in 3 weeks. The client could not take delivery of the new sofa and we kept the piece in storage until she was available for delivery. We also gave a 50% discount on labor for the inconvenience of the delay and color mixup. We have not received communication from the client saying that there were any problems with her sofa regarding puckering or any issues with the cushioning. We always stand behind our products and make any changes clients would like to the cushioning of delivered pieces. As all of our pieces are bespoke, some clients like the cushioning firmed or softened after delivery, which we will gladly take care of. We have tried to reach out to this client to ask if anything needs to be changed on her delivered sofa, but have not heard from her, save for this review. Ms. Lichtner, if you would like anything changed please email us and we will happily make any alterations to ensure you are completely happy with the finished product! I have attached a picture of the delivered sofa to illustrate that the completed sofa did come out nicely.

Very bad experience. My wife and I purchased a custom sofa from these people. The sofa was promised and scheduled for delivery by them on (4) separate dates prior to the final date of delivery. Two of these delivery dates were cancelled on the date of planned delivery, after arrangements had been made to obtain access to the building elevator and for someone to be present to accept delivery. When the sofa was delivered, it did not conform to the plans and specifications of the sofa that we ordered. It did not simply deviate from the design plan in only one or two cosmetic aspects, but, instead, was inconsistent with the design plans in multiple substantive ways. Our interior designer and other furniture specialist agreed that the sofa was incorrectly constructed. It was unreasonably uncomfortable and unusable. They refused to take the sofa back or to provide a refund.

Comment from Classic Sofa:
This is a shocking review as Classic Sofa of NY has NEVER done business with this client. After investigation, we have discovered Dr. Stieber purchased a sofa from a separate designer's company called, Stone & Co. Designs based in Greenwich, CT over three years ago. That company has no affiliation to Classic Sofa of NY. We empathize with the ordeal that Dr. Stieber went through, however respectfully state that it had nothing to do with Classic Sofa's manufacturing or service quality. Classic Sofa of NY consistently adheres to the highest level of manufacturing excellence and as well as providing our clientele with professional service.
Twenty years ago I invested in a sofa that was custom built by Classic Sofa. Since I was furnishing my first New York City apartment there was not as much money on-hand as I would have wanted but I realized that investing in some quality pieces would serve me well in the end. I chose to spend more on a great mattress and a great sofa as those would be the two places I'd be spending most of my time. I really made the right decision in both cases and when it came time for me to replace my sofa this year I went back to Classic Sofa and had my original purchase reupholstered as it really stood the test of time and I was still in love with the size, shape and design. I worked closely with Eric and Blake to find a more contemporary fabric and to determine how to add some design elements (decorative nail heads, different legs) that would make my sofa seem updated while still paying homage to its inherent classic design and architecture. Blake is knowledgeable, respectful and backs up his business promises; both he and Eric provided guidance and helpful opinions when asked. The end product is fabulous and we are thrilled with our decision to reinvest in a classic sofa from Classic Sofa. I highly recommend them without equivocation.
Blake is a terrific guy...great sense of design. Pleasure to work with. We came up with two beautiful pieces.
I had a sofa reupholstered which was originally bought years ago from Classic Sofa. The ordered leather was being delivered from Germany. They kept me abreast on the developments and delivered on their promise. Would highly recommend them.
Classic Sofa was a pleasure to work with. Their main concern was making sure that we received a beautifully made, incredibly comfortable custom designed sofa. They went to great lengths to spring the seat cushions and used high quality down. They were happy to receive feedback and to tweak anything like installing locking casters on our ottomans at the last minute. Their professionalism and thoughtfulness throughout our project ensures that we will continue to source upholstery from them for years to come.
I had my sofa reupholstered at Classic Sofa, and I was very pleased with the results. It looks completely new, and better to me than anything I saw in the stores. Blake and the others at the shop were extremely helpful, easy to work with, and very responsive to every request. The work took less time than I was quoted at any other place. I highly recommend them.
I have been client of Classic Sofa for over 12 years. There service quality and selection could not be better. I highly recommend them
Find Furniture and Accessory Manufacturers and Showrooms to Help Get the Job Done
Tired of reading all the DIY tutorials? We are here to help. With over 1 million home professionals on Houzz, you'll easily find the trusted Furniture and Accessory Company for your next project in Bronx, NY.
Read Reviews from Bronx Homeowners Like You
Read homeowners reviews before hiring the Furniture and Accessory Company to help with your project in Bronx. If you have questions, read other homeowners' reviews or our discussion forum for a second opinion.
Easily Contact Trusted Furniture and Accessory Manufacturers and Showrooms
If you're browsing Houzz and have a contractor in mind, then you'll quickly find that requesting a quote is easier than ever. From one simple dashboard, you can manage all the Furniture and Accessory Company quotes you got.
Furniture & Accessories near Bronx
Professional Categories in Bronx
Related Services