Backsplash Installation Cost
Homeowners in the US usually spend between $350 and $890 on backsplash installation.
Looking for specific costs in your area?
Get Quotes
What others are spending on backsplash installation:
Cost to Install a Backsplash
How much does it cost to install a backsplash?
It typically costs about $655 to install a backsplash. While backsplash installation often ranges in price from about $350 to $890, high-end projects can cost upward of $1,300. Backsplash projects can vary widely in price because materials range so greatly in cost; a slab marble backsplash will cost a lot more than a simple ceramic tile one. Kitchen and bathroom backsplashes also vary considerably in square footage from one home to another. When calculating the cost of your project, you should take into account the size of your space, the material you want to use and labor rates in your area.
Table of Contents:
How much does it cost to install a backsplash?
How much do backsplash materials cost?
How much does labor cost to install a backsplash?
Adding a new backsplash to your kitchen or bathroom can be an exciting undertaking. Backsplash tile can add an extra pop of color, while a slab of stone can add depth to a space, and both keep your walls clean and safe from cooking splatters and water damage. With a choice of materials from ceramic to granite, there are countless options to choose from. When installing a backsplash, you will want to make sure it's done well, as misaligned tiles and imperfections can be highly visible. That's why it's wise to hire a backsplash installation contractor to do the job. While it'll cost you more upfront, the satisfaction you'll get long-term from a flawless installation will be well worth it.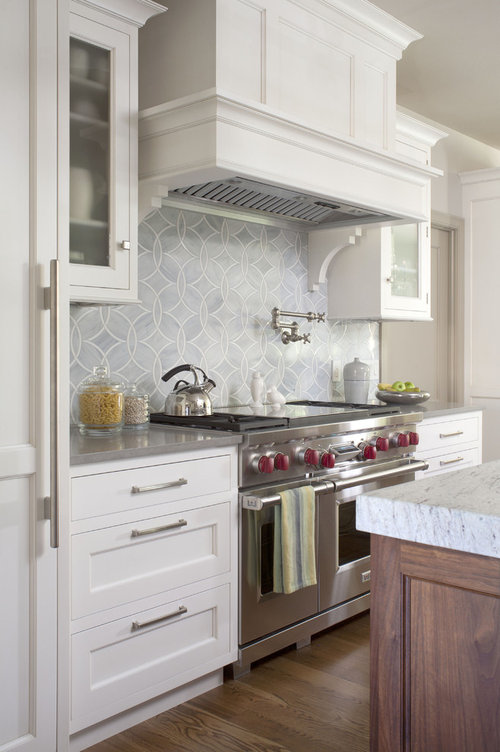 How much do backsplash materials cost?
Backsplash installation cost per square foot is largely determined by the material you choose. There are a number of different materials to choose from, all of which come with different price points. Ceramic is one of the most common and affordable materials, but high-end options like granite, quartz or marble can look particularly stunning. Even for the same types of materials, prices can be much lower or higher depending on the quality.
Backsplash Material Cost per Square Foot:
Ceramic Tile: $6 to $26 per square foot
Granite: $40 to $60 per square foot
Quartz: $65 to $95 per square foot
As you can see, prices range widely depending on the backsplash material. While some materials, like ceramic or porcelain, come in backsplash tiles, you can also opt for a solid slab backsplash of granite, quartz or another stone.
Kitchen Ideas: How to Choose the Perfect Backsplash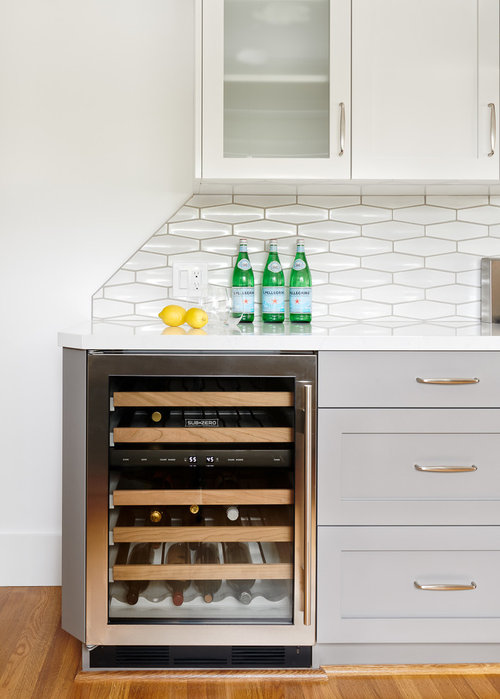 How much does labor cost to install a backsplash?
Besides material costs, labor costs will be another big factor in the overall price of your project. In general, labor costs for backsplash installation range from about $210 to $320, or about $9.50 to $14.50 per square foot. Most contractors charge by the square footage of the backsplash, but some charge by the hour. It's always best to discuss rates with your backsplash installation company beforehand so you know exactly what you're getting into.
Even if your contractor quotes starting rates to you beforehand, remember that the total cost will vary depending on the scale and complexity of the job. A kitchen backsplash usually takes more time to install than a bathroom backsplash, so it'll cost more overall. Still, keep in mind that rates can actually be higher for small projects, because companies need to cover the expense of transporting their workers and setting up for only a few hours of work.
The difficulty of the job will also affect cost. If there are intricate designs, a lot of corners or tight spaces that your contractor needs to work with, more skill and often more time are required. Adding a mosaic tile pattern will also add to the cost of labor. Finally, if you need to remove your old backsplash, this will increase the labor cost — although backsplash removal is not usually charged at the same rate as installation.
More inspiration: The Future of Backsplashes
Note: Costs are estimated at the U.S. national level. Variations depend on factors such as the quality of materials, type of products installed and labor costs. The typical range is assumed to be between the 20th and 80th percentiles. The high-end and low-end costs are the maximum and minimum, respectively. Costs assume that the homeowner manages the project and hires subcontractors as needed. They include a subcontractor markup of 10% for materials and labor. Costs can be higher if a general contractor is managing the project. All numbers are rounded.
Source: 2019 Houzz Remodel Costs Database