Alarm Clocks
Not everyone is blessed with a fine-tuned circadian rhythm that wakes them up as well as any digital alarm clock. That's why most of us rely on our alarm clocks to signal the start of our day. Thanks to updated designs, we now have the option to wake up to sounds other than the loud screeching of a traditional wake-up alarm. A radio alarm clock or vibrating alarm clock is a great alternative that still manages to yank us out of our dreams. Some people respond better to the brightness of dawn creeping over the horizon, and you can still experience this even with your curtains drawn tight with a light alarm clock. If you're less concerned about the noise yours makes, a retro alarm clock looks pretty cool hanging out on your nightstand.

For some of us, however, the noise of the radio or a vibrating design simply isn't enough. Instead we're faced with a continuous battle of mind over matter when it comes to getting ourselves out of bed. Once we do, we look like we're re-enacting one of the first scenes from the movie Shaun of the Dead — we do the zombie shuffle all the way out the door. Thankfully there are plenty of alarm clocks for heavy sleepers, including styles like the sonic boom alarm clock which not only blasts you with an extremely loud buzzer, it shakes your bed, too. How's that for a wake-up call?

Get up and at 'em with ease each morning with one of our fun, retro or radio styles here on Houzz.
Featured Reviews of Alarm Clocks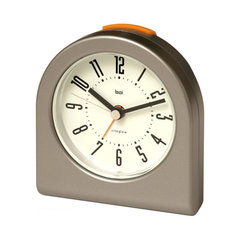 Designer Pick-Me-Up Alarm Clock, Gunmetal
Alarm Clocks
A fun cute spin on a usually boring item: Really cute, for an alarm clock. Seems to work well so far. A little bigger than i expected but that's because alarm clock and travel clock are one and the same for me and i don't think i would pack this clock. But i got it for my daughter who relies on her phone to wake her up and when her phone runs out of juice overnight or acts up she is late to work so this is a half-funny, half-serious stocking stuffer. The color options are young and fun too, again, unusual for something as unexciting and utilitarian as an alarm clock.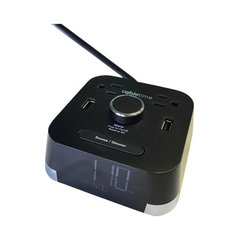 Cubie Time Charging Alarm Clock
Alarm Clocks
ideal alarm clock: I saw this in a hotel and ordered two before we got home! After fighting with alarm clocks this is a gem. Easy to set, cancel and with USB ports to charge at the bedside. One went into the guest room and now I'm set(no pun intended) they are solid, very heavy duty and obviously built to last.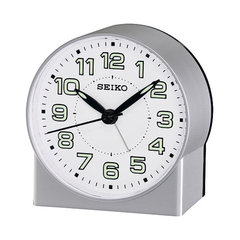 Seiko Bedside Alarm Clock, Silver-Tone Metallic Case, Quiet Sweep Second Hand
Alarm Clocks
New clock for nightstand: I like everything about the clock except that I cannot see the first and second hands in the dark. The rest of the numbers do glow in the dark. The first and second hands are supposed to as well, but only the second hand does. The clock is quiet and easy to maneuver. The order arrived on time and was easy to purchase online.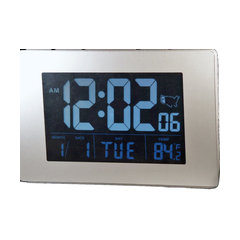 Atomic Clock With 1.75" White Time Numbers
Alarm Clocks
It is very nice I love it.: I do not like it any more, the time keep change everyday and cannot set the Time zone properly. Last time I set it before bed, in the morning it was change already I hate it.