Sponsored Products
Featured Reviews of Contemporary Kitchen Faucets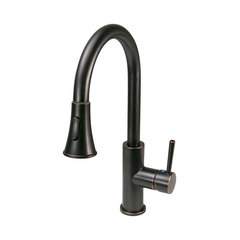 Contemporary 16" Pull Down Spray Kitchen Sink Faucet, Oil Rubbed Bronze
Contemporary Kitchen Faucets
Elegant and efficient: This faucet has added some charm to our newly remodeled kitchen. The "pull down" hose is easy to use and is long enough for us to wash down our sink with ease. Installation was not difficult and we're pleased we chose this product. I would recommend it.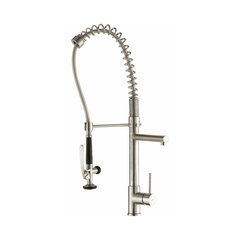 KRAUS Commercial 1-Handle Pre-Rinse Kitchen Faucet, Pot Filler, Stainless Steel
Contemporary Kitchen Faucets
Nice Faucet: This is the faucet we've been looking for and we're mostly pleased, though there are a few things that would make it even better. One is that it doesn't come with a matching base plate to cover the extra holes if you have a 3-hole sink. The others items are more with the site. The description doesn't provide info on what comes with the faucet or a manufacturers part/model number so that the info can be researched. Instead, you have to request info on each question. The delivery date shouldn't be relied on either. When I ordered mine it provided a delivery date range but I didn't even get a notice that it was shipped until after that date. Basically a great product and I'm very satisfied with it though have to come up with some solutions before I can actually install it.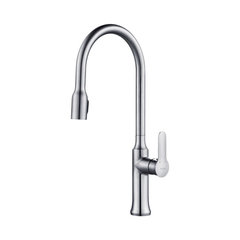 KRAUS Nola Pull Down Concealed Sprayer Kitchen Faucet With Deck Plate, Chrome
Contemporary Kitchen Faucets
Stylish and Functional: The sleek simple design is fabulous. The pull down sprayer is so well-hidden, I thought I accidently ordered the wrong product. It was easy to install and not a single complaint in 6 months. Have hard water (even with water softener) and sprayer has a little bit of build-up which is easy to address, but that is not a product issue.)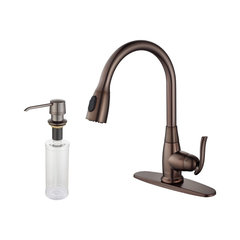 Single Lever Pull-Out Kitchen Faucet and Soap Dispenser, Oil Rubbed Bronze
Contemporary Kitchen Faucets
Beautiful Faucet: We love this faucet. It looks beautiful and has a heavier, quality feel. The only reason I didn't give it 5 stars is that sometimes the pull down head does not retract exactly and I need to fiddle with it a bit to get it back into place.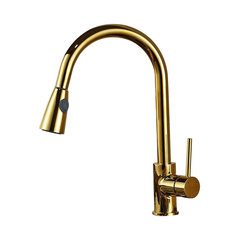 Manaus Deck Mounted Gold Kitchen Sink Faucet
Contemporary Kitchen Faucets
Classy Crisp Clean: This faucet had a shine which made me shine. I loved the easy of the faucets handle to pull down and retract back. Fingerprints are not as much of an issue as I thought it was going to be. However, I personally went with another faucet because I ended up preferring another sleeker head over a more cone shaped one.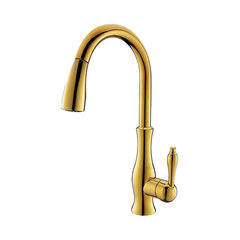 Moravia Deck Mounted Kitchen Sink Faucet With Pull Down Spray, Gold
Contemporary Kitchen Faucets
Lovely faucet.: Lovely faucet. Looks wonderful in person and very functional. I liked it because it is a mix of elegant with funky and works perfectly in our playroom/craftroom. I am trying to find a sink drain to match now.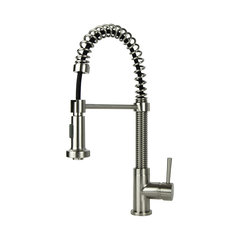 Residential Spring Pull-Down Kitchen Faucet, Brushed Nickel
Contemporary Kitchen Faucets
Beautiful faucet, accents kitchen: This faucet is everything and more that I expected. It is beautiful in my new kitchen, heavy duty and very good quality, especially for the money. Highly recommend this faucet and I might just get another for my laundry room!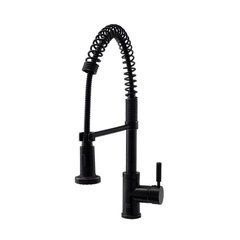 Spring Spout Kitchen Faucet, Antique Bronze
Contemporary Kitchen Faucets
Wow Faucet: This looks amazing and has stepped up the look of my kitchen, love the sprays and flexibility. I was worried the handle may be a bit narrow to grip, but it's perfect. Sleek and professional looking.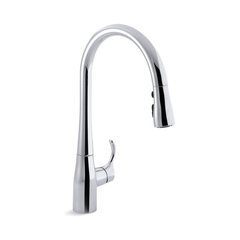 Kohler Simplice 1-Hole or 3-Hole Kitchen Sink Faucet, Polished Chrome
Contemporary Kitchen Faucets
EXCELLENT: LOVE this faucet! It looks great, works smoothly, the spray head is excellent – makes a wide/flat fan-shaped spray that you can pull down and really aim, then the spray head easily goes back up between a weight under the sink and a magnet at the top. The hot/cold work smoothly. My plumber said it is very well made... so there you go!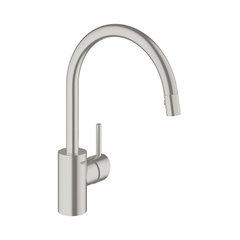 Concetto Single-Handle Pull-Down High Arc Kitchen Faucet, 1.75 GPM, SuperSteel
Contemporary Kitchen Faucets
Gorgeous finish, delivered right on time: Thank you for the excellent service. We haven't installed this yet, but we are familiar with the product and wanted to use it again in this project. The price was excellent! Thank you!