Futons
In a small apartment or house, finding a sleep spot for visiting guests can often be a logistical nightmare. When your guest bedrooms are limited, one of the easiest ways to add that extra mattress is through a futon. They only take up space when in use, otherwise, futons folds up nicely and functions as additional seating. Today, they come in a variety of styles and mattress sizes, so you can accommodate all your family without sacrificing good style. Here are some helpful things to consider when taking the futon bed plunge.


What size futon should I buy?

Like beds, futons come in twin, full, queen and king sizes. Although you might be tempted to buy a king-sized mattress to easily accommodate more guests, be sure that it will properly fit in your space — and have room to spare. Measure the space beforehand, and don't forget that when pulled out, the bed will take up much more room. Be sure to leave walking space on all sides; after all, you don't want to force guests to step over the bed in order to get in or out. If you can fit a king size futon, great! If you have minimal space, opt for a double bed, or even a twin-sized chair bed.


Is a futon mattress comfortable?

This is the ultimate question: Buy an uncomfortable mattress, and you'll find your guests preferring the floor to the bed. Test it out like a regular mattress and be sure it supports the shoulders, hips and lower back. The thickness of the futon doesn't necessarily mean extra comfort; the construction is what matters most. A good measure of quality is how many coils the mattress has: A full-sized mattress should have about 300, while a queen will have closer to 400.


What else should I consider when buying a futon bed?

While the comfort and size are most important, you also want something that looks good in your current space. Futons are no longer clunky and ugly; they come in a wide variety of styles, so you can easily find something that is both pretty and practical. To add interest, opt for a piece with a fun fabric pattern or bright color, or try a leather or tufted look for texture variation.
Sponsored Products
Featured Reviews of Futons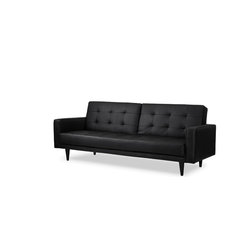 Futons
Pretty nice couch: overall this is a nice couch and the leather feels good. It's kind of a pain to put together, and I found one spot on the stop of the couch where a staple was loose and has puncture through the leather, but it wasn't a huge deal. Overall its a good feel for my design office. Keep in mind there is a center post that you can't really see but I didn't notice it in the images at all. I'm pretty happy overall.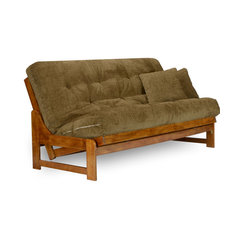 Arden Futon Set, Frame, Premium 8" Mattress, Full, Oxford Bronze
Futons
Assembly is nothing to fear....: I will admit I was quite intimidated by the box when I opened it. Then I learned there was nothing to fear. The instructions are quite clear and I quite comfortably assembled the frame. I am very pleased with the quality of the frame and the mattress that I selected. It's airing out, and it looks great in my multi-purpose guest room.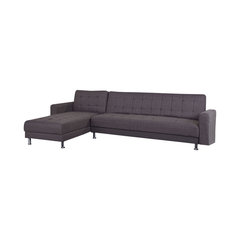 District Convertible Sectional Sofa Bed, Gray
Futons
LOVE IT: Bought this for the basement kids rec room and love the style and versatility! The back clicks to many angles for comfort and flat down to sleep a herd of teenagers who always seem to be staying over. It's decent quality and looks great! Super easy to put together and arrived quickly.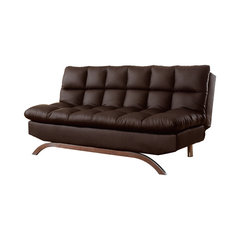 Futons
Be prepared: It took two weeks to receive from the order date. The photo shows the front leg to be kinda bronze, it is not, It is a mill finish aluminum. It was pitted and had spots all over it making it look used and not new. That was the biggest disappointment. As far as quality besides that I give it an awesome! Very comfortable to sit on as was as lay on. Definitely the most comfortable futon I have aver had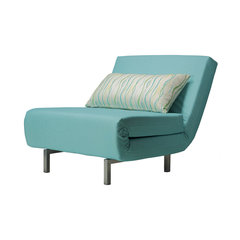 Savion Convertible Accent Chair Bed, Seabreeze
Futons
Good chair for reading: Exactly as pictured. This has become my reading chair. Lots of room. Good if you are a reader who likes to sit lotus style (cross-legged) and read. It is a very hard mattress for sleeping.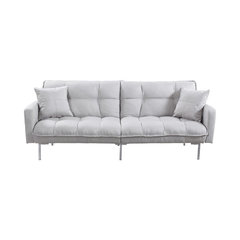 Modern Plush Tufted Linen Fabric Splitback Sleeper Futon, Light Gray
Futons
Cute futon, worth the price: My ordered arrived in a timely manner. I enjoyed seeing the leg pieces hidden inside a zipper pouch on the underside of the futon. Legs were easy to install and armrests slide easily (but securely) in and out. I've only used the futon a few days, but I think it's great so far. It's comfortable and looks nice, like in the pictures. Pillows aren't very good quality but I had planned to buy accent pillows anyway. I'm happy it even comes with pillows. :) It's small, but I expected that. Now, I hope to wait and see how long it stays nice.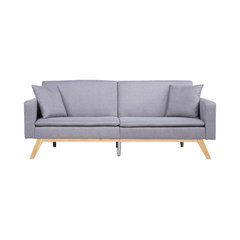 Modern Tufted Linen Splitback Recliner Sleeper Futon Sofa, Light Grey
Futons
Very affordable and easy to set up: This sofa was an extra addition for the office and intended to double as a spare bed. Easy to set up and pretty decent extra bed. As a sofa it is pretty firm and minimal padding, but great option for the price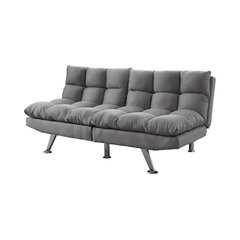 Monarch Split Back Click Clack Futon, Light Gray Micro-Suede
Futons
Perfect for kids!: This is a nice futon. Doesn't take up much space, and is stylish and modern.Nice fabric and look. Feels pretty comfortable, too. I've had sleeper sofas that were much more uncomfortable. Perfect size for when the kids come, and is such a space saver.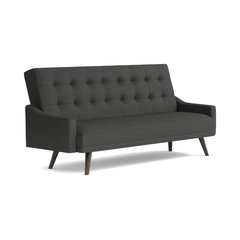 Oak Creek Click Clack Futon Sofa Bed, Charcoal Linen
Futons
Sofa bed fits a purpose but shouldn't be a main room option: I bought this sofa for my office/2nd bd room for guests. It arrived in one package undamaged and packed well. Putting together, was easy but some of the fits needed a "little encouragement" to get into place correctly. The back that clicks back for the sofa bed is best installed with help to get aligned. When finished it looks great unused. The sofa has 3 positions. 1) straight up, nearly 90 degrees, 2) a leaned back about three quarters or ~75 degree lean, and 3) a full flat bed. In order to get the bed down, you need to pull it forward till it " clicks" hence the name. The back of the sofa is not secured to the flat bed, so I found issue with this if you pull the back forward too far, it comes off and then needs to be repositioned. Not convenient for the uninitiated. The bench seat is very firm. Since we've been using it as our main couch until that arrives, I've found it not to be comfortable to sit on for long periods of time. You definitely need "throw pillows" and back supports for the couch if you intend to use this for sitting. It's fine for a few hour...say a sitting for a movie, a few chapters in a book, a few conference/phone calls but I can't see using this on a daily basis. I like the length, as I'm 6 ft, I can lay end to end and not be up against the arm rests. I have not slept on it but given the firmness I might be ok with sleeping on it as I like firm beds. I will most likely buy a pad to go on with sheets for guests. The arm rests come off easily so once folded down, it could be used as a flat bed. Over all I would recommend for certain uses, the sofa bed is stylish, in seamingly good quality, easy to assemble/move and for the price I think its a buy, but if you're looking for more comfort (bigger/deeper flat bed), and wider sofa bed you'll have to pay more to get more.