Sponsored Products
Featured Reviews of Kitchen Faucets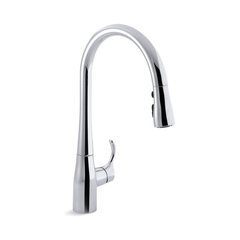 Kohler Simplice 1-Hole or 3-Hole Kitchen Sink Faucet, Polished Chrome
Kitchen Faucets
EXCELLENT: LOVE this faucet! It looks great, works smoothly, the spray head is excellent – makes a wide/flat fan-shaped spray that you can pull down and really aim, then the spray head easily goes back up between a weight under the sink and a magnet at the top. The hot/cold work smoothly. My plumber said it is very well made... so there you go!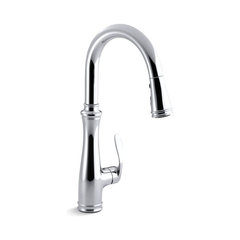 Kohler Bellera Single-Hole or 3-Hole Kitchen Sink Faucet, Polished Chrome
Kitchen Faucets
Nice faucet!!!: This looks to be a great faucet, have not installed yet. It is tall and the chrome finish is beautiful. I plan to use it in my pantry and think it will be great. I would recommend this faucet it was as described. Pull down head is a great feature.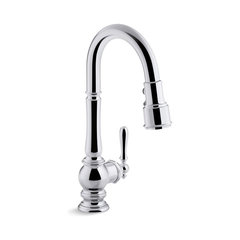 Kohler Artifacts Single-Hole Sink Faucet, Pull-Down Spout, 16", Polished Chrome
Kitchen Faucets
Love my faucet: At first I thought the scale of this faucet was too large for my small kitchen so I asked some friends for a second opinion - I kept the faucet and with the granite install countertops and my single vessel sink it looks perfect and is the jewel of my kitchen. It also works great. My plumber suggested placing the handle in the front to prevent drips on the countertop when hands were wet or messy-great idea!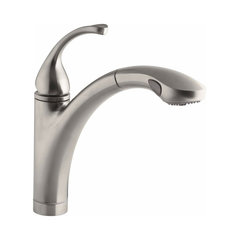 KHR K-10433-BN Forte Faucet Pull-Out Spray, Brushed Nickel
Kitchen Faucets
Solid & Beautiful: We are so impressed with this faucet - it is larger than I expected visually but we have a very large kitchen sink, so the scale works. The lines of this faucet are very elegant. From the perspective of usage; the sprayer works seamlessly and the switch for turning regular flow water to spray is designed well. I would call this faucet a "statement piece"!