Outdoor Holiday Decorations
Outdoor seasonal decor adds a festive and fun holiday touch to your home's exterior. Whether it's a few small outdoor Christmas decorations for your porch or Halloween props that cover your home from roof to lawn, seasonal decor can transform your home's look just in time for the holidays. While you're shopping for some magical and maybe just a little zany outdoor Halloween decorations and Christmas yard decorations, here are a few things to keep in mind:


How can I dress up my home with outdoor Christmas decorations?

Whether you're staying simple or going all-out, you'll want to start your decorating blitz by thinking about how much effort you want to put into setting up — and tearing down. Don't forget to consider how much space you have as well as any safety concerns. It's often easiest to pick a theme or color scheme when decorating for the holidays to help narrow down your choices. Go for a country Christmas design with outdoor Christmas trees, reindeer and items with an antique appeal. If that isn't your cup of tea, try a modern, kid-friendly style featuring Christmas inflatables like an inflatable Santa or inflatable snowman. The little ones will love it!


How can I do up my home with outdoor Halloween decorations?

Similar to your winter holiday decor, you'll want to begin planning your Halloween scheme by considering how much effort you'd like to put into setting up and tearing down. Space and safety are also concerns, and you may also want to consider your "scare" level if you have younger children living nearby or with you. Again, it helps to start with a theme. Halloween props come in every design under the sun, so if it's Dr. Frankenstein's lab or a haunted graveyard you want to create, you're sure to find decor that adds to the ambience. Halloween inflatables are also available and may be more appropriate if you expect a lot of young trick-or-treaters visiting your house — or if you have a little trick-or-treater of your own.


Are outdoor Halloween decorations and Christmas yard decorations weatherproof?

Most holiday outdoor decorations are weatherproof, but double check to ensure that they will hold up in your specific climate. If you spend the holidays in a sunny climate, it's possible the sun will begin to show its mark on certain decorations that may otherwise maintain their look under overcast skies. On the other hand, wet, rainy or snowy climates may cause certain objects to deteriorate that might otherwise be fine in dry areas.


Are there any safety precautions I should take when installing my Halloween props and Christmas yard decorations?

Be sure to make safety a priority, especially when dealing with oversized decor. Make sure larger items are securely planted and lack sharp parts and heavy pieces that may fall. If yours plug in, be sure to never overload electrical outlets or extension cords and avoid running electrical cords along high-traffic areas.
Sponsored Products
Featured Reviews of Outdoor Holiday Decorations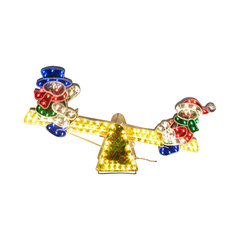 Pre-Lit Sparkling Holographic Snowmen on See Saw Yard Christmas Decoration, 48"
Outdoor Holiday Decorations
This is a great addition to our yard.: This is a great addition to our yard. Very colorful and adds lot of colorful charm without being too overwhelming. The teetering mechanism works well thanks in part to metal base. Very simple assembly required, although the instructions are poorly written. The holographic material is somewhat flimsy. Will see how it holds up in the weather.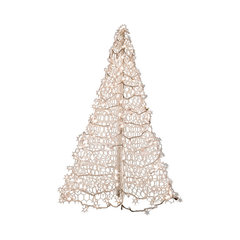 5' White Wire Crab Pot Tree With 350 Clear Mini Lights
Outdoor Holiday Decorations
Simply elegant!!!!: I absolutely love this tree. I'm trying to downsize and this folds into a box...so smart! I also am SO proud to have supported an USA company. So far, my shopping experiences on houzz.com have been a pleasure. Thank you!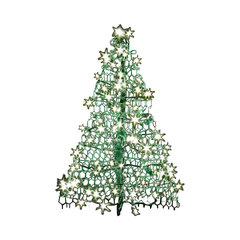 Crab Pot Christmas Tree, Green, 3', 160 Clear Led Mini Lights
Outdoor Holiday Decorations
Beautiful and High Quality: This surprised me as it is very substantial as well as very easy to set up and definitely not your typical artificial tree. Feels like it will last many years and can be used as is either inside or outside or add a few decorative ornaments if you wish.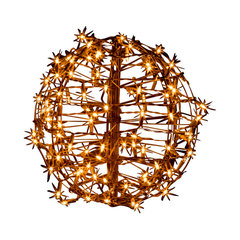 15" Fold Flat Christmas Sphere, 100 Clear Incandescent Lights
Outdoor Holiday Decorations
White Light Spheres: These lighted spheres definitely make a statement. They were easy to assemble/unfold and clamp so was able to put them in place within minutes of receiving the package. The quality seems good but gave them 4 starts only because I think they are overpriced. But given that, it is challenging to find any other product of this size to create the same impact. I placed them in square metal planters on top of winter greens and they look spectacular. They also have the ability to be hung so it would be great if they came in a variety of sizes. If you can get over the price, I strongly recommend them for a modern twist to the holidays.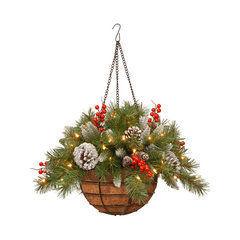 20" Frosted Berry Hanging Basket With Battery Operated Warm White LED Lights
Outdoor Holiday Decorations
The hanging basket was a bit smaller than expected as well as very light.: The hanging basket was a bit smaller than expected as well as very light. With a lot of fluffing it looks fine. Not the highest quality artificial materials but considering it will be exposed to the elements and the fact I purchased on sale I am satisfied.