Towel Holders
Few bathrooms come without towels, making towel holders an important addition to your space. While cubbies and shelving are fine and dandy, towel racks, bars, hooks and stands allow you to put your bath towels and washcloths in convenient, easy-to-reach places. Whichever form of towel holder you choose, make sure you've got enough of them to accommodate everyone, including potential guests; no one likes towels on the floor!

If you're blessed with a roomy bathroom, you've got a huge selection of towel rail styles to choose from. You may even be able to fit some of the larger styles, such as a towel ladder or towel radiator, in your space. If, however, your bathroom is smaller, consider opting for space-saving towel hooks. If you have enough wall space, a towel rail can also do the trick without taking up too much valuable space. If your wall space is limited or you prefer a rail over hooks, you may even choose to add an over-the-door towel rack.

Whatever style you decide is best, there's a huge variety of choices that will complement your bathroom right here on Houzz.
1 - 36 of 16,568 products
Sponsored Products
Featured Reviews of Towel Holders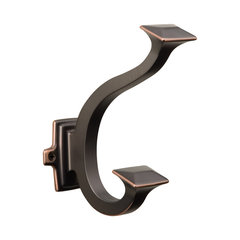 Bungalow Hook, Oil-Rubbed Bronze
Towel Holders
Very nice quality: I had been looking locally for coat hooks like this and was not finding anything of decent quality. The closest I came as a set of hooks at Anthropologie that were the right size, but much more "frilly". This hook is made extremely well, a nice consistent finish and color - black throughout, not like most oil rubbed where the edges look brassy. I can't wait to hang these in my new house.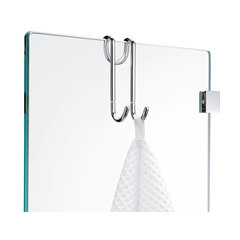 Harmony Hang Up Hook for Shower Cabins, Chrome
Towel Holders
Very good hook.: I liked this item very much. It was heavy so that it did not slap against the shower door as the door was opened and closed. The finish was just what I was looking for. It was both decorative and functional. Had it been longer to accommodate my unusually tall shower door I would have kept it.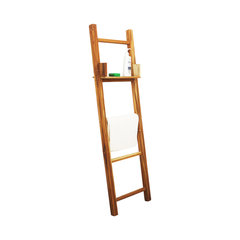 Haussmann Teak Towel Ladder 18 X 64 In H With Adjustable Shelf Teak Oil
Towel Holders
Looks Good: Looks nice in my bathroom and an added plus that I can put the adjustable shelf on any of the rungs. I added little felt pads at the top so it didn't scratch my wall. It's quite sturdy, stays put, but light enough to move easily if I need to shift it. I took one star off because it seems "dry" - no teak oil on it. Easily remedied by buying some and applying it myself. Good purchase, I endorse it!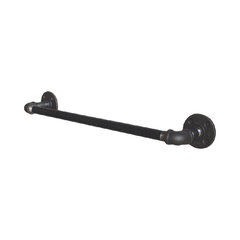 Towel Holders
Great product and good shipping: I really like this product. Nicely done and was shipped with appropriate packaging and safely wrapped. I am a new Houzz shopper and purchased from several other vendors that sent low quality products in poor shipping, without protective wrapping or bubble wrap, which resulted in damage. This was a positive experience and product.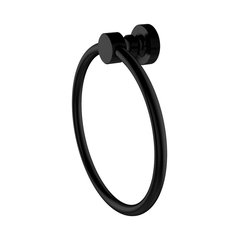 Towel Holders
Beautiful Exactly what I Was Looking For: This is beautiful. The screws that came with the ring were too big and could not be used but luckily my husband has a jar full or screws and found small enough ones that it was easy to mount.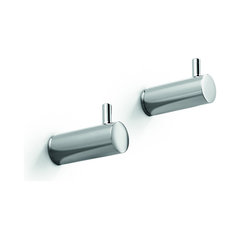 LB Picola Brass Double Towel Hanger Set Of 2, Chrome
Towel Holders
Modern: These look amazing in our walk in shower room. They installed very easy and are very secure. Towels stay on them but I am going to buy towels with loops just to be able to see the hook while the towel is hanging.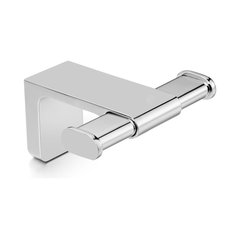 Dash Bathroom Double Robe Hook, Polished Chrome
Towel Holders
Perfect!: I had already purchased one of these as a robe hook and decided to buy another to place right outside the shower door to hang your towel to avoid the cost of adding a towel bar to the glass shower door.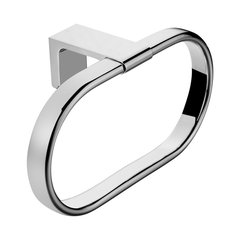 Dash Towel Ring, Polished Chrome
Towel Holders
Beautiful!: I searched extensively for bathroom hardware for our Master bath remodel. The quality & heft of this product is excellent. I wanted something a bit unique. I like high quality without exorbitant cost & this is that. We purchased the coordinating towel bar & tissue holder as well. You will need to purchase your own anchors as the ones included were not adequate/functional. The towel ring projected a bit further than I preferred, but after much looking, found others to be about the same. The tissue holder does accommodate mega rolls. Products were well packaged & arrived in a timely manner.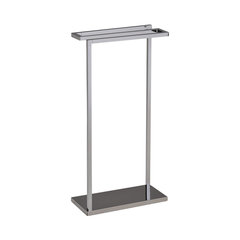 Magdalene Metal Towel Rack, Chrome
Towel Holders
Towel Rack as Clothes Caddy: I bought this to use as a clothes caddy so my husband would stop throwing his shirts and pants on the floor of our bedroom. It's sturdy enough to hold a lot of clothes, has a narrow profile, and looks nice. He likes it and uses it too!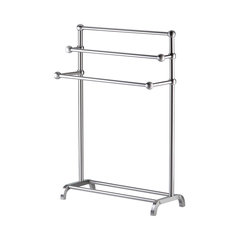 Maddox 3-Tier Valet, Chrome
Towel Holders
Very pleased with this towel rack.: Very pleased with this towel rack. It's sturdy and was easy to assemble. I did need to add some felt pads to the bottom legs to prevent the rack from rocking slightly on the bathroom tile floor.