Wastebaskets
Many rooms in the house benefit from wastebaskets, from kitchens to bathrooms to bedrooms. To determine what type of basket is right for you and your trash, consider how much garbage you'll be placing into your wastebasket on a daily basis, as well as aesthetic preferences, materials and features.


What types of wastebaskets are available?

Wastebaskets tend to differ depending on the room you'll be placing it in. Due to the nature of kitchen garbage, many kitchen wastebaskets are made to be easily accessible while containing odors through hands-free and odor sealant options. Bathroom and bedroom wastebaskets tend to be smaller to sneak in between the toilet and vanity or tuck beneath a bedside table. If space is particularly tight, consider a wall or cabinet mountable wastebasket to take care of your trash needs without getting in the way.


What styles and materials should I look for?

Wastebaskets are generally made of plastic or metal; the type of material often dictates the style. Determine your aesthetic preference, the quality you're seeking and what will look best in your home to make your choice. Metal wastebaskets offer a timeless, chic look that is more durable and long-lasting than plastic. However, plastic wastebaskets are lighter and easier to move, and are available in a variety of colors and styles to further customize your space.


What additional features might I consider for my wastebasket?

Beyond hands-free and odor sealants, you may also want to consider removable liners for easy cleaning, or a trash bag fastener so it always stays in place, despite heavy items. For extra safety, consider a fireproof wastebasket made with steel to keep a fire contained within the basket in case of any accidents.
Sponsored Products
Featured Reviews of Wastebaskets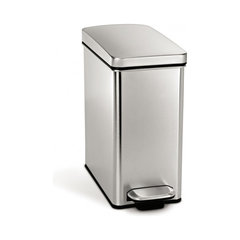 Simplehuman Profile Step Trash Can
Wastebaskets
Perfect: Product arrive well packaged and in good shape. Fits my space perfectly. I am very happy with this product. Just as an FYI, the company does include a small package of fitting trash bags, which was a nice surprise.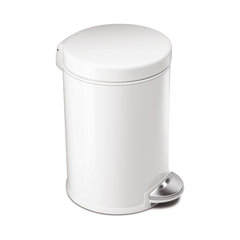 4.5 Litre Round Step Can, White Steel
Wastebaskets
great little trash can: The quality is very good. I did not truly realize how small it is. I should have paid more attention to the dimensions because it is really small. With that being said, if the size is perfect for you, you will be very happy with your purchase!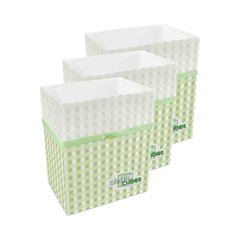 Clean Cubes Disposable Bin - 6-Pack Picnic Pattern
Wastebaskets
exactly as described, inexpensive and fun: I ordered these for a rental property and ease of cleanup. I had to show them to some of my coworkers because of the ingenuity. It makes for a rather expensive wastebasket if you have to replace it 50 times! but if used effectively, I think it's a fine product.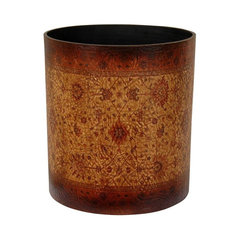 Olde-Worlde Baroque Waste Basket
Wastebaskets
Awesome waste basket!: I had been looking for a waste basket for our den and decided to look on Houzz. I found exactly what I was looking for. The waste basket arrived in perfect condition and it looks exactly as pictured. It matches my colors and décor perfectly. I couldn't be happier!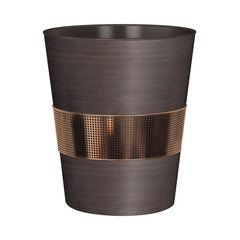 Selma Oil Rubbed Bronze Wastebasket
Wastebaskets
Nice looking: Wastebasket is a great size and weight. Bottom has a non skid pad on it which is nice because I am placing it on marble. The shiny band around the center adds the little flair that dresses it up perfectly for my master bathroom. I am very happy with my purchase.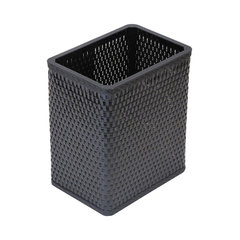 Chelsea Collection Decorator Color Square Wicker Wastebasket
Wastebaskets
Wastebasket: I was so pleased with this product. It was easy to purchase online, it arrived so quickly and I was pleased that the color and description of the basket was exactly as described.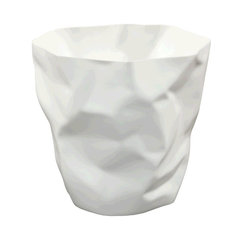 Wastebaskets
Cute and functional: I recently bought this trash can for our office, and I was worried that it was going to be too small, but it's the perfect size adds a nice aesthetic to the room. It's plastic, which some might not like, but I think it makes it nice and light weight and it also won't scratch.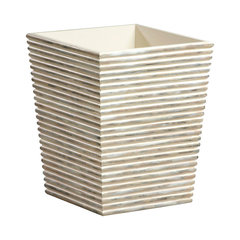 Wastebaskets
Modern Bedroom: This wastebasket is perfect in a modern bedroom I put it in! It is a great size and the quality looks great, too! Not sure why it's called Dragonfly...so you know, there are NO dragonflies on the wastebasket! It added just the right touch...thank you Houzz!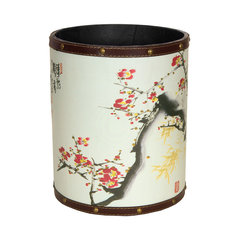 Cherry Blossom Waste Basket
Wastebaskets
Nice match for my home dojo/living room: I have a little cherry blossum theme going on in the living room/home dojo. This looks great with the curtains and the canvas wardrobe that I spattered with iron-on cherry blossum appliqués. It's a little smaller than I expected but perfectly adequate size.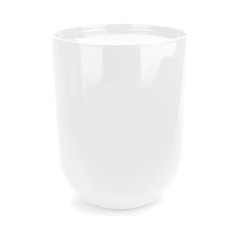 Step Waste Can With Lid Black, White
Wastebaskets
hardworking little can!: I bought this to replace a similar Umbra can that was accidentally dropped and broken. This was the closest approximation I could find and it is working out great. Fabulous price, astonishingly fast shipping time, and I love the fact that it has a LID! I don't want to see the contents of bathroom can :)