About Us
Southern California Innovative Residential Remodeling Solutions | BOH
At IND construction, we believe that the home is where your heart lives. We do more than construct homes, we have a commitment to care, excellent design, and beauty. Our dedication comes from a desire to rewrite the narrative and to change our clients' perceptions of construction and contractors. The industry has a variety of well-intended professionals who at times may not deliver what clients want – which is something we strive to change. Because this is our driving force, we believe in going the extra mile, from our innovative designs to our hands-on approach throughout our building process. As a full-service professional company, we specialize in new home construction, remodeling work, and everything in between. Our commitment is to preserve the origins of the structure, integrated with our specialized interior designs. For the last 14 years, our company has experienced great growth and that is because of our former clients, who are sharing our work with their friends and family. The team at IND is passionate about building and we strive for excellence no matter how big or small our project may be. Our quality and attention to detail makes us a premier builder.
Services Provided
Accessory Dwelling Units (ADUs), Custom Home, Garage Building, Guesthouse Design & Construction, Home Additions, Home Extensions, Home Remodeling, Multigenerational Homes, New Home Construction, Bathroom Remodeling, Custom Walk-in Closets, Kitchen Remodeling, Outdoor Kitchen Design, Custom Homes, Bathroom Design, Kitchen Design, Window Installation
Areas Served
Bel Air, Brentwood Los Angeles, Burbank, Calabasas, Canoga Park, Chatsworth, Culver City, Encino, Granada Hills, Hidden Hills, Lake Balboa, Los Angeles, Mission Hills, North Hills, North Hollywood, Northridge, Porter Ranch, Reseda, Sherman Oaks, Studio City, Sun Valley, Tarzana, Toluca Lake, Universal City, Valley Village, Van Nuys, West Hills, West Hollywood, Winnetka, Woodland Hills, La Canada, Pasadena, Glendale, San Gabriel, Silver Lake, Eagle Rock, Glendora, Montrose, West La
Awards
* NKBA - National Kitchen & Bath Association * NARI - National Association of the remodeling industry * Best of Houzz Service Award, 2014-2016 * 2012 Angie's List- Super Service Award
Back to Navigation
Our Stories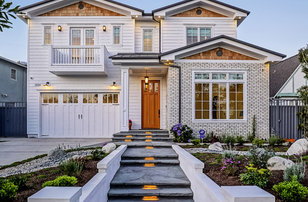 Sponsored story
An Encino general contractor shares ways to take these styles into the current era without losing their original charm
Item 1 of 1
Back to Navigation
Back to Navigation
Back to Navigation
Write a Review
55 Reviews for IND Construction, LLC
Average rating: 5 out of 5 stars
5.0
|
55 reviews
We hired IND to complete a wholesale remodel of the kitchen, bathroom, and floors in our new home. In addition, they painted the entire house and completed some electrical work. From the very beginning of the project Erez Schifferman, the project manager, was wonderful to work with. My husband and I met with multiple companies to get bids on our project, but Erez impressed us right away by the way he really listened to our goals and was realistic and informative about what we could achieve. Since this is our first home and first remodelling project, we really appreciated Erez's willingness to explain how things work and what to expect, which made the whole experience much less mystery and stressful than it otherwise would have been. Overall, the construction crew was friendly and clean and did excellent work. Whenever there was a problem, Erez and the team made sure it was taken care of. While we came in a bit over budget, this was entirely due to additions we made to the plan as well as some necessary issues that were uncovered during construction (which seems inevitable!). We found the price quote we received very reasonable for the scale of work completed. We highly recommend both Erez and IND and would happily work with them again. Our house is completely transformed!
We had a great experience with IND for our kitchen remodel. It was a significant project involving new cabinetry, slabs, tile backsplash, flooring, windows, lighting and electric, and some structural reconfiguration, plus renovation to the adjacent laundry room. We are very happy with how it turned out. The final construction cost was in line with the estimate. We only went about 15% over, and each change order was well explained and legitimate (due to our own desire to expand the scope of work, or because demo revealed some additional work that was necessary). The project also ran on schedule, with the only significant delay being a custom-material order that took longer to ship due to COVID. Avi was the project supervisor and was great. He was at our house daily to review the work and was very responsive to calls and questions. Overall, his crews were great too – their tile guy was fantastic, the carpenter did an amazing job, and the slab fabrication was impeccable. We also really appreciated working with a designer they use – Ana – who charges separately but at a really reasonable hourly rate; she provided excellent advice on details and materials that helped bring the vision together. To the extent issues arose here and there (as they do on a project), Avi worked with us to resolve them. Even after the project was completed and they were fully paid, he still sent his electrician by (at no extra cost) to swap out some fuses that were tripping and to help us find the right light bulbs for a fixture we ordered. We highly recommend IND and Avi and would certainly go to them again. Before and after pictures attached.






Erez Shifferman and IND were excellent and we are very pleased with the results of our recent kitchen remodel. This was the second remodel project we have done working with Erez. His communications were outstanding, prompt and thorough. He kept the project moving and avoided unnecessary delays. When problems arose, he was quick to find solutions. Erez has a style that instilled confidence that he was working to achieve our objectives. As a whole, the IND crews were neat, courteous, conscientious, and assured quality results. Of particular note, the demolition, flooring and tiling crews were excellent. IND was excellent. When we have future remodeling projects, Erez Shifferman and IND will be the first (and maybe only) contractors we will contact.
IND was a terrific company to work with on my kitchen remodel. The results exceeded my expectations (see attached photos). The plumbing, tiling, flooring, painting, electrical, work crews that IND has assembled were exceptional. Erez Shifferman, the project manager, was amazing, a pleasure to work with and managed the effort with a positive (we're in this together) team attitude. He kept me informed on the scheduled work detail, provided information on next steps, resolved my issues and concerns, and provided working alternatives when unexpected issues turned up (which they always do). Thanks, Erez! I highly recommend IND and plan to use them in my next remodeling project.



We just finished our Kitchen and floor remodel project with IND Construction. Avi and his team did an exceptional job and we are super happy and excited at the final outcome. Our home almost looks like a brand new one now! They exceeded our expectations in every aspect of the project. The company logo says "constructing hearts" and I truly believe that they 100% live by that value. Avi is a true professional and a man of high integrity, honesty and humility. He is very organized and gave us a detailed phase-wise plan at the outset of the project. His team then not only stuck to that plan, but the best part is, they were able to complete the project 3 weeks ahead of schedule. I couldnt have asked for anything more!! Avi told us that he treats every project, how big or small it is, as if it is his own home and at the end of the project he hands over that home to his client. I think thats a great work ethic and I can see the results of that attitude and sincerity in the quality and workmanship of what he and his team have built for us. I must also admit, that I am not a very farsighted and organized homeowner myself which meant that there were several last minute changes I had asked him to do which were not part of the original scope. For instance, all the demolition work was part of the day 1 schedule, but only after 95% of the job was completed, I had a change of mind and wanted a center piece in the family room removed as well :D. Avi not only took care of it within a day but also repainted the wall where the piece was installed. There are several other such big and small instances where he and his team were very patient and accomodatve, went above and beyond their scope and delighted us with great end results. As homeowners, a remodel project when we are living at the property is not easy to handle. We literally had to live out of our upstairs bedroom for 4 weeks, but IND constructions and all their construction staff ensured that the project was as hasslefree as possible. They employ very professional, smart and humble staff and they have a clean-as-you go policy after every work day which is great. I must also give a special shoutout to Ana, our wonderful interior designer who was recommended by Avi to design the kitchen. We have a small-ish kitchen with an awkward nook area. It was Ana's wonderful design that got us hooked to proceed with IND construction. Ana is also super friendly and professional and stayed with us throughout the completion of the project giving us valuable design suggestions at every stage. She has become our go to person for any design recommendations in future! If we ever plan another remodel project for our home, I cant think of any other group than IND and I will highly recommend them for any of your remodel projects too. We are super delighted and we cant wait to make more memories in our dream kitchen now!
IND Construction treated us like family and our home like their home. They converted our 2 car garage into a beautiful, efficiently designed, ADU. Additionally, we renovated our small awkward kitchen and turned it into a gathering spot for family and friends (or will be once we can gather again!), we landscaped, and more! Every step of the way, IND made certain that we were happy and when issues arose, we worked together to problem solve. David, Ehran, and Ben are honest, kind, and integrous. Gina, in the main office, is top notch, always ready to dive in and help out, wonderful to work with, and gets the job done. They stand behind their work and went the extra mile to make sure we were happy with the results.






Almost a year ago, we had commissioned IND Construction (through our neighbor's recommendation) to remodel our kitchen and to convert our garage into an ADU. When we first saw our neighbor's newly remodeled kitchen, there is no doubt in our mind that we will be using IND Construction. Throughout the whole construction process, we witnessed IND's professionalism, expertise and passion to their craft. There were series of meetings with the architect, designer, and project manager to plan what we wanted to suit our needs, budget and style. IND also introduced us to various vendors in order to provide more options on material and color selection. We went through some challenges of making a few changes here and there with the designs but IND's patience and commitment to customers' satisfaction made it all possible to come up with our final kitchen and ADU designs. Fast forward, we are now enjoying our dream kitchen and ADU and the final results definitely exceeded our expectations. A Huge Thank You to the IND owners David and Eran and the entire staff and crew for making this project a huge success. Thank you also to Gina for always being pleasant and helpful in addressing all our concerns.
IND is one of the most professional companies I've worked with during my 30 years in commercial real estate. My kitchen remodel was quick, beautiful, easy, and was exactly what I envisioned. Communication and customer service outstanding! My next construction referral and/or remodel will be to Ben and David. Thank you! Christine

My renovation project was a pretty simple one – new cabinets and new, wider peninsula layout. I interviewed a total of 7 contractors to provide bids for my Kitchen renovation late last year and was on a budget. I was extremely clear with every contractor that I did not want to exceed a certain amount, and I shouldn't anyway since my project was on the smaller end. Some of the contractors that came just flat out told me it was impossible with my budget since I was in a high rise, some said I couldn't do the kitchen without changing the entire kitchen floor (which I did NOT want to change because I had nice tiles), some said that since I live in a building, they would have to charge me more for the ventilation/hood area (which I still don't completely understand), and the others.... I personally did not see myself working with them. Then lo and behold… Avi came to the rescue! He instantly worked with me on my budget, and was the ONLY contractor to tell me that I should NOT change my floor tiles because they were expensive. He also had no issues with my ventilation, and was suggested to get a microhood, which I already had planned to. He even saw that I currently had a mini makeshift bar area, and suggested that we extend the countertop to blend the kitchen and create me a new bar. My new bar now is easily my favorite place and the best thing I've added onto my kitchen – ALL within my budget! Additionally, my laundry room connects to my kitchen as well, and he suggested I change it too since my cabinets in the laundry room were extremely outdated. All in all…. Would 100% recommend Avi and his team. He responds right away when you need something or have a question any time, any day. I can be extremely finicky about little things and I would text him a lot about things I didn't like, or wanted fixed, etc. And each time he never failed to come up with a solution and address my concerns. He also gave me a freebie sink and LED lights under my cabinets!!! Plus Plus Plus !





We just saw our renovation finished and could't be happier with the final result - the house looks like new. We spent quite some time choosing a contractor the job - we met with and interviewed several contractors and companies and got some quotes. In the end we chose IND and it really was the right choice. The quality of the work is excellent, the team that worked on the house was great, and it was priced fairly. This is the second round of renovations we gone through on our home and if you've not gone through a home renovation yet let me share one key piece of advice. It's never going to go perfectly. It just isn't. And that's not a reflection on the contractor or company you choose - it's just a reality. Any renovation, no matter how big or how small, is tough. You're inviting strangers into your home, they're tearing portions of, or all of, your home down, and rebuilding it. And there's likely going to be some complication no one could predict. But this is all part of a renovation. It's about who that contractor hires to work for them. It's about how they approach the work. And, most importantly, how they react to the issues and problems that will inevitably come up. And that's why we were so happy with IND. They took care of our home as if it were their own and took care of us and our concerns as if we were family. Every single interaction was making sure we were happy. And that changes the whole experience. Ben was our lead and he was great to work with every day - cheerful and sincerely passionate about the work and that leadership passed down to the guys working with him. Beyond the work, cost is obviously an important consideration. And here, too, IND was the right choice. Were they the cheapest option? Admittedly, no. But when you meet the team and interview them and compare the cost to other contractors you understand why there will be a difference in the work, the craftsmanship. There is true value in hiring a contractor that isn't going to cut corners. Everything IND did elevated the renovation and brought a higher level of quality to the job. We got exactly what we paid for and the work is just awesome. We absolutely love coming home to the house and seeing the new exterior.
I have completed one job with IND, almost done with a second, and am confidently about to start a 3rd! So far together we have accomplished remodeling my Kitchen and replacing the floors of my house. Remodeling my Garage into an apartment - including moving/replacing my furnace, condenser, and H20 heater. They have helped me to complete my projects within budget and it still looks exquisite and professional! (BEFORE AND AFTER PHOTOS BELOW) Here's the nature of the beast: David and Eran: Business owner and Sales Rep Honest, Open, Personable. They will: Show up on time, Call ahead if they are running late Look you in the eyes, Listen to your concerns Explain what is involved in the construction process (for educational purposes) Give you a realistic expectation of how long it will take ** and what to expect with regards to the cost. If the project hits a snag my project manager (Ronen) always let me know what the snag was and how long it would take to get back on track (still on schedule, no extra cost). They even let me help. (tiny bit - not too much) I used to live in a house - now I feel as though I live in a PALACE. Countertops for ADU to be installed FRIDAY!!!!







Hi neighbours, I just want all of you to know that i found this amazing company that is now helping me remodeling my old 1936 home and convert it from 1,100 SF to a 1,650 SF - 2 bed 1 bath with a very bad layout into a 3 bed 2 bath with a great open floor plan layout and I'm very excited about it. They renovated my neighbour's house 2 doors down from my home which they helped them to complete remodel their home and convert the garage into an ADU - they are super happy about IND team. I'm in the middle of the process now and just wanted to share my dear neighbours in this crazy time of life as we all know it's not easy to trust contractors, and simply tell you all - they are great in all aspects so far. They are professional, clean, honest, and just great and fun people to work with. I'll keep u all posted and will add photos when this is all done.


Back to Navigation
Back to Navigation
Contact IND Construction, LLC
| | |
| --- | --- |
| | IND Construction, LLC |
16430 Ventura Blvd # 208
Encino, CA 91436
Typical Job Cost $15,000 - 2 million