About Us
Award Winning Virginia Beach Kitchen and Bath Remodeling Experts
Members of the Benson Homes team have been improving people's lifestyles for 30 years. We're one of Coastal Virginia's premier design-build firms, specializing in residential remodeling and additions. No matter the size of the project - whether kitchen or bath, porch or whole home - you can expect stellar service and results. Jim, the founder and President of Benson Homes, has been part of the Coastal Virginia community for over 30 years. From his earliest days as a contractor he has been about building trust and establishing a connection that a homeowner can draw on for years to come. Originally a New England native, Jim started out swinging a hammer while studying for his M.B.A. and stumbled upon what would become a life-long passion: providing people with a better quality of life through home renovation. A stickler for quality, he quickly became one of the best in his trade. Jim is now a Master Builder with decades of experience that have earned him local and national recognition.
Services Provided
3D Rendering, Bathroom Design, Home Additions, Home Extensions, Kitchen Design, Universal Design, Bathroom Remodeling, Home Remodeling, Kitchen Remodeling, Remodeling, Additions, Whole House Remodels
Areas Served
Norfolk, Virginia Beach, Chesapeake
Awards
National Association of Home Builders Certifications: Graduate Master Builder, Certified Graduate Remodeler, Certified Aging-in-Place Specialist, Certified Green Professional. BBB A+ Accredited
Back to Navigation
Our Stories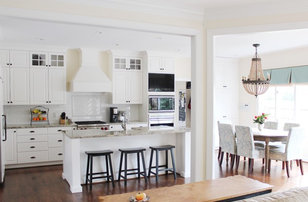 Sponsored story
Add extra sparkle and space to your home using these tips from a Virginia Beach design-build professional
Item 1 of 1
Back to Navigation
Back to Navigation
Back to Navigation
Write a Review
23 Reviews for Benson Homes LLC
Average rating: 5 out of 5 stars
5.0
|
23 reviews

We have been thrilled with every aspect of our experience with Benson Homes. From the first time that Jim met with us and walked through our home to the clean up at the end of the project, their approach has consistently been considerate and thorough. Responses are always timely and thoughtful. Their approach to getting to know your family, space, and the scope of your projects is personalized and detailed. The team developed a robust understanding of our vision that enabled them to offer creative solutions that met our project goals more fully than we had anticipated. They accomplished this while respecting our budget and timelines, which we greatly appreciated. Communication is clear, all members of the team have been a pleasure to interact with, and the craftsmanship is excellent. We are so pleased to have formed this relationship with Benson Homes, and very much look forward to future projects together.
We selected Benson Homes to replace our front porch and doors. From start to finish we received exceptional service from everyone involved. Our Project Coordinator led us through the design process to finalize options that complimented the style we envisioned. We were provided with a very complete and accurate estimate up front detailing all work involved including the schedule. The Master Carpenter for our project was both highly skilled and professional. He maintained a neat and orderly worksite. Throughout the project we received weekly in-person updates from our Project Coordinator. Our new front porch is a place we enjoy spending time due to their exceptional, high quality work. We highly recommend Benson Homes and would use them again.

OUTSTANDING, HONEST, QUALITY WORK!!! Jim and his team came in and save me and my Family. We had gone with a different contractor to build an addition for my son who had a diving accident and was made quadripelic. Our house did not have any bedrooms or accessible bathrooms downstairs. the other contractor was supposed to be completed in 120 days and it was almost 10 months and failing city inspections. Jim and his team came in and corrected all the errors and finished up quickly. he went out of his way to ensure quality of the work and even went further than what he had to. The addition is wonderful and my son had a very usible space. Thank you Jim.

Benson Homes was professional and thorough from the start, with Jim (the owner) involved every step of the way for our kitchen remodel and complete redo of the floors on our first story. They were very committed to showing us a properly rendered draft of what our FINISHED project would look like, down to the exact materials in the precise places, and how it worked with the adjacent rooms. They communicated daily with us on progress and anything unexpected that came up. The lead contractor, Ryan, was the perfect person to head up our project (which wound up uncovering a looooot of issues), and was on site every day to ensure continuity and quality. Even with me having to travel for work and my husband sleeping during the day (night shift), we had no doubts that the job was in good hands. The quoted price was a little higher than we were aiming for, but you absolutely get what you pay for, and the quality with Benson was unquestionable. And with a lifetime guarantee that they'll come out to address any issues that arise at any time, there was no doubt. They stuck to the time-line promised, even with having to do some pretty extensive, unexpected corrections for water damage and a termite colony, though this naturally pushed the budget higher than originally quoted. I am in love with our kitchen every single day. It's still hard to believe the transformation it went through, but the function is infinitely better, and the beauty and quality is incredible. We just hosted our first party since the renovation last week and the openness to the living room made for easy entertaining.....not to mention everyone was drooling over the kitchen. We would definitely hire Benson Homes again! They are worth saving up a little extra money for.
Benson Homes was truly an excellent experience for our entire family! The care, time,organization, dedication and attention to detail on a daily basis was appreciated! The end result of our Benson Homes project was a very "sweet" suite! I gave Benson Homes my highest recommendation because our general contractor DL, and because of Bevin, who were both wonderful to work with as they came to know us not only as clients, but as friends, and we enjoyed our renovation experience!
This Hampton Roads remodeling contractor is committed to client satisfaction. We believe that Benson Homes, LLC was courteous and accommodating in all respects. In particular, we would like to commend our Project site superintendent for his excellent workmanship, attention to detail, and care for our concerns. Office staff responded to questions promptly and provided follow-up by both phone and e-mail in a timely manner.
It's been said that "experience" is the name we give our mistakes. Previous home improvement projects with different contractors resulted in "experience" for my wife and I. Having learned from those experiences, we can fully appreciate our dealings with Benson Homes. If you are seeking Quality, Integrity and Trust in a home improvement project, call Benson. We have completed, within the last 5 years, two remodeling projects managed by Benson Homes (family room and guest bedroom and bath – floor to ceiling) and we couldn't be happier. The Benson people are personable, professional, exceptionally skilled, and dedicated to customer service. They kept us informed both verbally and in writing, provided assistance and recommendations in selecting décor, maintained the project schedule, were willing to make adjustments as work progressed and ensured that all details were completed to our satisfaction. If you are preoccupied with low price call someone else, because the bitterness of poor quality lingers long after the sweetness of low price is forgotten. The value and style of our home has been enhanced and we are and proud to say we're on our way to becoming a Benson home.
After interviewing a handful of other builders and reviewing references, we selected Benson Homes to do our remodel. Jim Benson was professional, knowledgable and humble. We felt a sense of confidence turning our home over to his team to add a pool bathroom, renovate our laundry/utility room and combine our two existing bathrooms. It was refreshing to work with a team that respected our home and our wishes as two prior experiences with remodeling using other companies did not go anywhere near as well. Benson Homes was not the cheapest bid, and we now see that the level of quality we received was well worth some extra cost. When we ran into a bump here and there during the project, as will inevitably happen, Jim was right there to smooth it over. We appreciate the integrity that Jim displays in the workmanship and in how he works with his customer. We would absolutely use Benson Homes again for any renovation or building project.

Benson Homes did an amazing job from start to finish on my home. No job was too big or too small. I was very impressed with the quality of their work and their dependability. I highly recommend working with Benson Homes LLC.

Jim Benson and his team is amazing. Not only did my project come out amazing their communication was excellent throughout the whole process. The whole process was professional, clean, and picture perfect. Thank you Benson Homes for giving us a stress free house project!
Had used Benson Builders in the past for some remodeling and was pleased with their professionalism and knowledge. Straightforward. Needed someone to construct a 12 x 20 greenhouse and was having trouble finding a contractor with this experience. Although their experience with greenhouses was limited, decided to hire them. It was a learning experience for both of us, but the end result was truly spectacular. Was built partly from a kit from Canada, and Jim and the crew were in frequent contact with the company to work out construction, especially since it was a custom size. Excellent follow-up for minor adjustments.
We hired Benson Homes to renovate our master bedroom, bath and closets. After selecting tiles, plumbing accessories, furniture vanity and shower glass we were given a comprehensive plan for design. Several days before demolition began, they provided a detailed daily schedule of progress which to my amazement was followed. Looking back, the renovation progressed so quickly that the inconvenience was minimal. Every trade that entered our home was professional, efficient and friendly. The construction site was cleaned daily and carpets protected from debris. So much progress was made each day that we were excited to see what was next. We have lived through several other renovations and there is no comparison. Our completed project is beautiful, exceptional, so much more than we could have imagine. We would recommend The Benson Homes team to anyone. Quality and attention to detail sums up our experience.
Back to Navigation
Back to Navigation
| | |
| --- | --- |
| | Benson Homes LLC |
1630 Donna Drive, #102
Virginia Beach, VA 23451
Typical Job Cost $40,000 - 2 million


Please call us to discuss your individual project for an estimate. Project costs vary widely based on the size, scope, and finishes that are selected. We look forward to hearing from you.
License Number Class A - 2705132144A