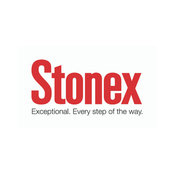 Stonex Granite & Quartz Inc.
| | |
| --- | --- |
| | Stonex Granite & Quartz Inc. |
Commented: MONTZ white quartz
Those are all great! Rhapsody is the most natural looking marble in our opinion. Check out some of these options if you are still looking--they are all quartz which is extremely durable, low maintenan...
Commented: Kitchen countertop dilemma
If you are going with a grey toned countertop try "concrete" caesarstone , "cement" caesarstone or "stone grey" caesarstone which are quartz options. A good tip we always...
Commented: Please help vote - 2 designs on eat-in-counter
The two seat option is the best solution if you are set on having an IEC-- it allows family and friends to sit in on conversation/keep whoever is cooking company. Having the 4 seats is to much and wil...
Commented: Ugly basement bathroom- help!
Hey Lea! Without fully seeing the room--- my suggest would be: -use light airy colours to brighten the room (assuming no windows)-- light blues, creams, whites, beiges etc. -add a large mirror to cre...