Sponsored Products
Featured Reviews of Modern Door Hardware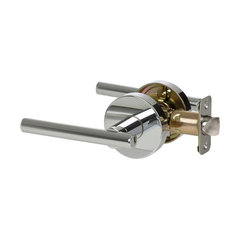 Designers Impressions Kain Design Door Lever, Polished Chrome, Privacy, Locking
Modern Door Hardware
Great Quality: I ordered just 1 to see what it was like & looks / feels like a great quality product - & way cheaper than any I've found in the past! I will be placing an order for more very soon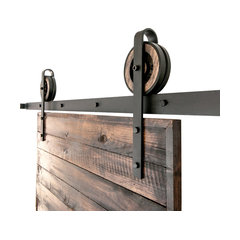 Rustic Slide Barn Door Closet Hardware Set, 6', 2-Roller
Modern Door Hardware
looks great: very unique, unlike the ones I saw at Home Depot/Lowes most all looked the same; however, this set was very elegant and like none other I have seen. The wood in the dials makes it pop. it was perfect for my Cabin in the woods that is very small, and the two bedrooms have no room for swinging doors, so this one works great!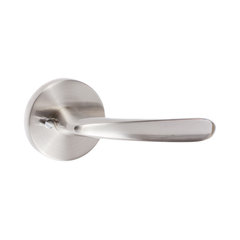 Modern Series Torino Privacy Lever, Satin Nickel
Modern Door Hardware
very substantial: these are very nice, unusual handles - door handles these days seem to all be "S" shape and thin, flimsly. These are thick and strong. Maybe slightly harder to open if you have hand issues than the "S" shape ones (not sure) - but a lot nicer.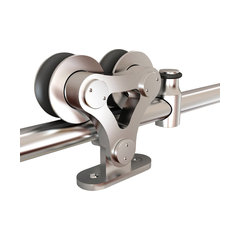 Top-Mount, Dual Wheel European Style Rolling Door Hardware
Modern Door Hardware
Beautiful and smooth!: We needed to convert some doors in our bedroom from hinged doors to barn doors. We bought two kits and a connector to make one continuous rod for both doors. It looks great! Very smooth operation. We love the minimal look of the hardware in a more transitional style. The first person who saw them ordered the same kit for her home. FYI - our contractor told us to throw away our perfectly good doors and buy new ones that were bigger. We found a millwork shop that would add a 3" strip on three sides for just a few hundred dollars. We had nice quality doors and wanted them to match the rest of the house. Big savings too compared to buying two new doors!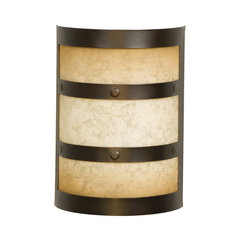 Metal and Glass Chime - Oiled Bronze Gilded
Modern Door Hardware
Switching Out The Old: We replaced an early 1960's yellowed, and barely working doorbell with this nice looking and working, chime. It compliments the ceiling light in the hallway that this chime resides in. Very happy!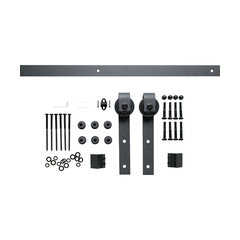 8' Barn Door Hardware, Black
Modern Door Hardware
Great product, poor instructions: Instructions were a little misleading causing me to drill an extra hole. Instruction stated to drill hole down 1 1/2" from top and 3 1/2". The 3 !/2" hole is down from the first hole and not the top. Should make it clearer and simply say to drill holes at 1 1/2" and 5" down from the top, which is what I did form the holes for the second roller bracket.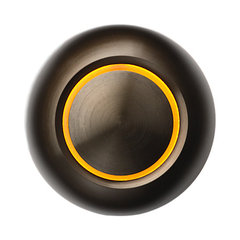 True Doorbell Button, Orange/Bronze
Modern Door Hardware
See the doorbell in the dark!: Love the style and I had very quick delivery! This is for a new construction, so I won't be able to try it out for a few more months. I think the blue back light will be fun on my blue house.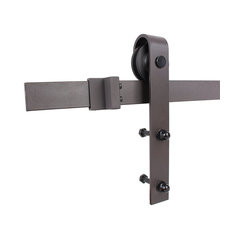 TMS 79" Antique Bronze Steel Sliding Barn Door Track and Hardware Set
Modern Door Hardware
Great Buy for Handsome Product: I used two rescued barn doors as a closet and bathroom door in a century-old farmhouse I was rehabilitating. I priced barn hardware at the local home improvement stores and elsewhere online. It was all either outrageously expensive or shoddy - not robust enough for my real, true barn doors. This product was solid, handsome and affordable - nothing else came close. And when I had a question before ordering, I was able to call TMS and get an answer. Highly recommended.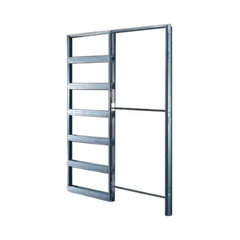 Freely Door Frame Kit, 30"x80"
Modern Door Hardware
Excellent mechanism: Our client had a pocket door with some older rickety hardware. They really liked the door itself so we were on the hunt for hardware that would allow them to keep it - this did the trick!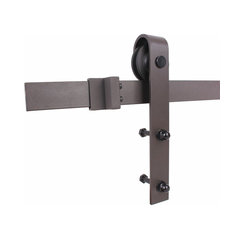 TMS 60" Antique Bronze Steel Sliding Barn Door Track and Hardware Set
Modern Door Hardware
Barn door track: We just hung the barn door yesterday. The track and hardware looks good and seems to work well. It arrived as promised and was a better value than we could find in our local hardware stores. I am very pleased with the looks and operation of this product.