9 Elements of the Perfect Man Chair
Give a guy rugged good looks and a place to rest his arms, head and feet
If you used to watch Frasier, you know that he suffered the ugliness of his father's grossly overstuffed, battered "man chair" for 11 years. I could feel his pain as that hideous chair created an eyesore in the middle of his tastefully decorated condo. But the really painful part came in the series finale when Frasier's father moves out and Frasier finally gets to put his beloved Eames recliner in the living room. His father comes to visit, sits back in the Eames recliner and says "Hmmm ... this is pretty comfortable. I would have been okay with this!"
So what makes a
chair
a "Man Chair?" Does it have to look like a pillow fight is going on underneath worn out upholstery? Does it have to be so large it takes up most of the living room? Hardly. But there are specific key elements that set apart some chairs as being more appealing to a man, so read on to see what they are.
And if, like Frasier, you're putting up with a less than lovely chair that is the favorite of the man in your house, don't wait 11 years to try luring him into a replacement. I bet you'll find one he would be more than okay with.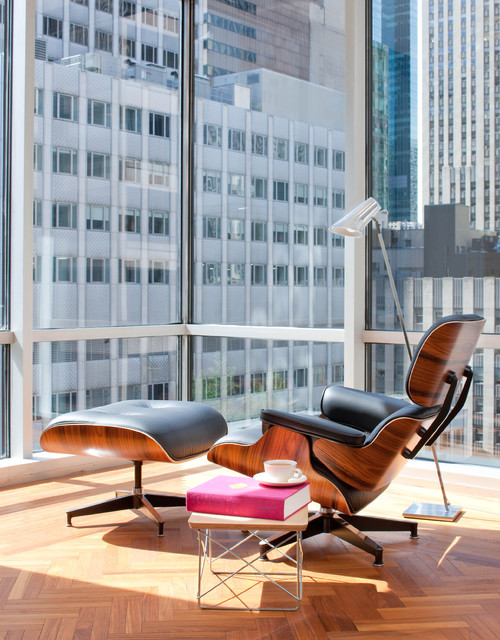 Kristen Rivoli Interior Design
1. Comfort.
When choosing a chair, a man's number-one concern is comfort. One of the things most men love is a high back so they can lean their head back to relax. The iconic
Eames recliner
is softly padded and has a nice high back and angled head rest. Frasier's dad liked it … maybe your man will too.
Garret Cord Werner Architects & Interior Designers
These very modern lounge chairs also offer a high back and a molded shape that a man can sink into.
2. Leather, leather and more leather. Have I mentioned that men love leather? I'm a designer, not a psychologist, so I can't tell you why — but there is something about the look, smell and feel of leather that is irresistible to most men. Maybe it goes back to the days when the men were the hunters. Whatever it is, give him a rich, brown or black leather and he'll love it. Cream color? Not so much.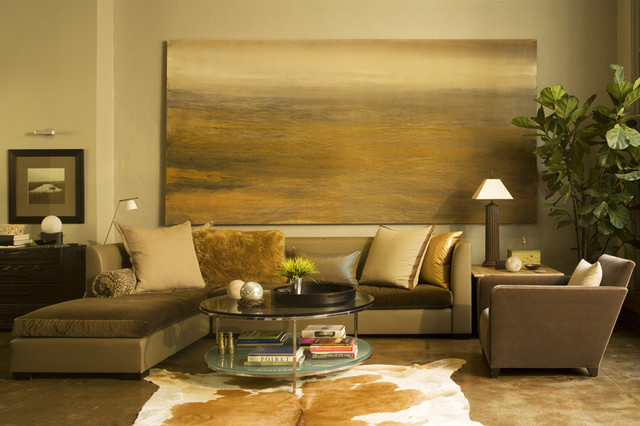 Elliott Kaufman
3. A place to rest his arms. Notice how the chair on the right has armrests that extend all the way to the front edge of the chair. He can sit all the way back in this chair, and his hands won't be dangling over the end of the armrests.
Mark English Architects, AIA
4. A place to put his feet up. This lounge chair is sleek, but still softly padded and perfect for putting his feet up after a long day.
Elad Gonen
5. A place to stash the reading material. These are great man chairs! Not only are they made from leather and have full armrests, the pockets on the side will hold that latest copy of Sports Illustrated, Field & Stream, his iPad ... or for the man in this house, maybe it's GQ.
6. Generous proportions.
Even if the man involved isn't over 6 feet tall, most men like a chair that feels roomy. The Papa Bear Chair by
Hans Wegner
is not thick and bulky, but it still has generous proportions. It is nice and wide at the top so there is room for his shoulders. If he is tall, pay attention to seat depth. Average seat depth is about 22", but a tall man may appreciate a chair that is a couple inches deeper.
Mark English Architects, AIA
7. Rugged good looks. When looking at the style of a chair for a man, look for one that is just as ruggedly handsome as he is. This chair may not be his choice for watching TV, but as an accent chair, the leather sling and strong looking tube frame are all very masculine looking.
Pepe Calderin Design- Modern Interior Design
8. Angular lines. Curves suggest femininity, while angular lines suggest masculinity. The chairs in this photo have nice, clean lines that are either angled on the back or squared off at the front. The rich wood accent around the outside of the chair also adds to the masculine appeal. There are those full-length armrests again.
David Churchill - Architectural Photographer
9. The throne.
If a man's home is his castle, his chair is his throne. The Egg Chair designed by Arne Jacobsen is a modernist throne if I ever saw one. What better chair for a man to sit in while enjoying his surround-sound! Okay, here's a challenge for you. Post a picture below of the ugly man chair you are enduring now, or the beautiful one you've found to replace it.
More:
Chairs in the Air