Bring On the S'mores With These 10 Smoke-Free Fire Pit Ideas
These fire features help take the party outside while keeping the air clear
There are few things more inviting than the warmth, crackling and glow of a fire outdoors. As the evenings grow cooler, fire pits can extend the time you can enjoy your backyard. Create a welcoming gathering place with a handful of chairs drawn around the fire and plenty of hot cider and nibbles, and your guests may be tempted to linger well after sundown.
If you're thinking about adding a fire feature to your landscape, go for a
smoke-free design
. Many contemporary built-in fire pits burn natural gas rather than logs as fuel, saving the air from polluting wood smoke. With plenty of styles to choose from, here are 10 ideas for including a gas fire pit in your own backyard.
Arterra Landscape Architects
Intimate gathering.
Sink into a cushy chair and relax in front of the fire in the backyard, as the owners of this modern farmhouse-style home do. The rim of this built-in fire pit is wide enough that it could be used for serving a tray of drinks or plate of appetizers without its being too close to the flames.
Jeffrey Gordon Smith Landscape Architecture
Cozy corner. A quarter-circle-shaped concrete fire pit is slotted into this corner nook and makes every spot along the benches a front-row seat for the warm glow. For built-in seating and fire pit arrangements, be particularly careful how you position the seating in relation to the fire feature — once it's in place, there's no flexibility to change it. Here, the distance from bench to fire pit allows people to put their feet up on the thick concrete sides.
Thuilot Associates
Beacon in the dark. When choosing the position of your fire pit, consider whether you'd be able to see the fire element from inside the house. The flicker of flames can tempt you to step outside and enjoy the evening in the garden when you might otherwise be prone to stay inside. Here, a meandering path through lush foliage leads to the entrance to an inviting circular fire pit and seating area.
Studio H Landscape Architecture
Fiery orbs. A concrete fire pit piled high with flame-proof concrete balls adds a whimsical focal point to the backyard whether or not the fire is lit. "Fire balls" come in a variety of materials, including concrete, terra cotta and even porcelain in different colors.
MODE CONCRETE
Mod look. The best part about this sleek 1960s-inspired fire pit: It's movable. Shift the lightweight fire pit to different areas of the garden to create an inviting gathering place, or pack it up and transport it to your next cookout.
Lenkin Design Inc: Landscape and Garden Design
Black and gold. As stylish and put-together as a starlet on Rodeo Drive, this Los Angeles backyard lounge and fire feature could hardly look sleeker. To get the look, coordinate materials and colors for every element, from built-in seating to throw pillows, fire features and even potted succulents. Using clear glass to fill the fire pit rather than the typical black stones really makes the flames sparkle.
Jeffrey Smith
Natural stone.
The backyard of this winery in San Luis Obispo, California, blends beautifully with the surrounding hills and ornamental grasses, including
'Karl Foerster' feather reed grass
(
Calamagrostis
x
acutiflora
'Karl Foerster') and
autumn moor grass (
Sesleria autumnalis
),
and with the seat-height walls made of caramel-colored stones. The fire pit in this well-loved Houzz photo is informal, with one side made up of a natural boulder. As a nod to the industry of the area, the glass in the fire pit is from recycled wine bottles.
California Home + Design
Narrow fire rill.
A long row of flames dances under a concave stone wall in this contemporary design. A long, narrow fire feature works well in a side yard or on a skinny terrace, as it can easily be slotted into a slim space to provide warmth and light.
25 Ideas to Perk Up Your Side Yard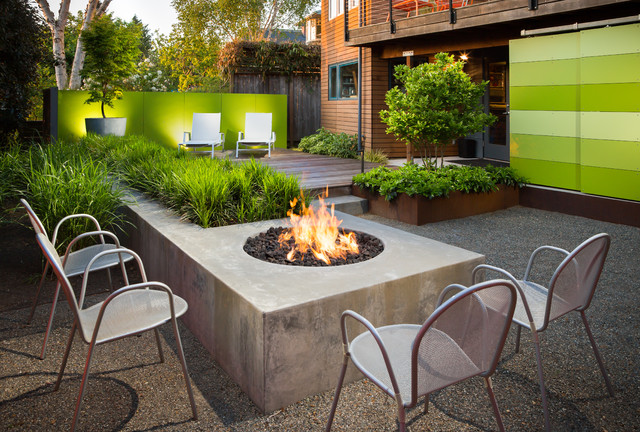 Scot Eckley, Inc.
Urban chic. A fire pit set into a raised concrete bed creates a second gathering spot in this urban backyard. While the deck and lounge chairs may get more use during the day, pulling up a few chairs around the crackling fire would be an ideal way to spend the evening.
moderngirl
Sunken and sandy.
Dangle your feet over the sandy floor of a sunken fire pit, as the owners of this San Francisco Bay Area backyard can. To allow proper drainage of rainwater, make the ground material permeable by using sand, gravel or wide-set pavers and have a professional install underground drainage to convey water through the landscape.
More:
3 Ways to Bring the Heat to Outdoor Living Spaces